Oregon Ducks reveal plans for Marcus Mariota Sports Performance center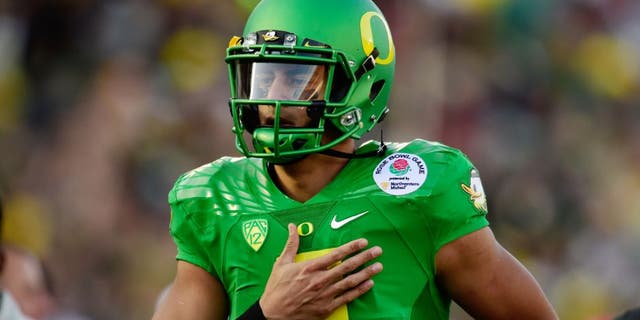 NEWYou can now listen to Fox News articles!
Marcus Mariota may no longer be at the University of Oregon, but his legacy is about to be cemented even further.
As Oregon continues to try and create the best sports facilities in the country, the Ducks have hatched a plan to build the Marcus Mariota Sports Performance center. The Oregonian has the details:
"The University of Oregon's Board of Trustees were presented Thursday with a plan for the Marcus Mariota Sports Performance Complex that would expand the first floor of the UO's Casanova Center -- which houses most athletic department offices, with the exception of the football offices, on two floors -- to house the 29,000-square-foot Mariota complex.
The board can approve the proposal next week. It will be paid for as a gift by Nike co-founder Phil Knight and his wife, Penny, UO announced.
Oregon's "aggressive" schedule would have drawings completed by Nov. 1, bids opened Dec. 5, construction begun Jan. 10 and the complex opened Sept. 15, 2016."
Athletic Director Rob Mullens had this to say about the potential center:
"Thanks to the incredible generosity of Phil and Penny Knight and their commitment to the University of Oregon, we'll be able to enhance our total commitment to the student-athlete experience with another world-class facility," UO athletic director Rob Mullens said in a news release. "Marcus is the epitome of a student-athlete, and the Marcus Mariota Sports Performance Complex will be an outstanding tribute to his legacy.
"Our vision is for them to walk into a Niketown-like atmosphere, with a lot of energy," said equipment director Aaron Wasson.
(h/t The Oregonian)