Oregon coach Mark Helfrich says playing quarterback is 'an individual sport'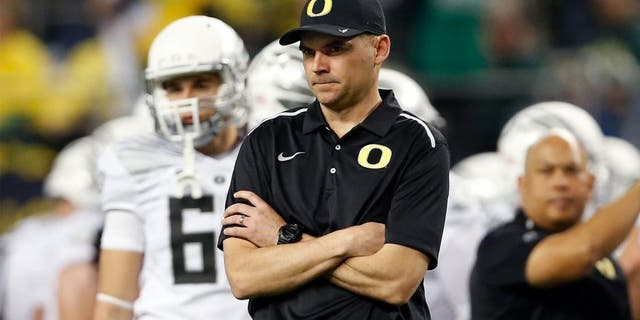 NEWYou can now listen to Fox News articles!
Within the last few years, the landscape of college athletics has completely changed thanks to the graduate transfer rule. With players now eligible to transfer and play immediately (assuming they have their undergraduate degree) it has set up a de-facto free agency period in both college football and college basketball, where coaches are now filling in blank space on their depth charts with the first, pre-packaged, ready-made player they can get their hands on.
And no school has taken advantage of that trend quite like Oregon the last few years. After replacing Marcus Mariota last year with graduate transfer Vernon Adams of Eastern Washington, the Ducks did the same in 2016 with new QB Dakota Prukop who had spent the previous four years of his career at Montana State.
Recently Oregon coach Mark Helfrich went on the "Championship Drive" podcast and explained why the Ducks have been so quick to hit the transfer market:
"You're trying to do what's best for your team," Helfrich said. "At any position, we had a graduate transfer center last year, a JC Kyle Long a few years back, both guys worked out well. Vernon worked out well. If somebody's going to help your team get better, even if it's providing competition for somebody else, you're going to do it."
However, from there Helfich continued, and that's where his comments got interesting. As he explained, the transfer route isn't just a one-way street, but instead something that not only do coaches see as a viable option to fill their depth chart, but something players now view as a quick-fix option.
At the end of the day, schools like Oregon are left with little choice but to act quickly, or get left behind.
"In the world of recruiting, if guys don't start immediately, they transfer. If guys are intimidated by somebody on campus, they go somewhere else," Helfrich said. "It's just that odd dance you have to play every year. You try to manage it the best we can for our program."
And then there was this gem.
"Playing quarterback, unfortunately, has become an individual sport, almost," Helfrich said. "It's like a country club sport, where everybody's got their trainer, personal this, personal that, and a guy doesn't go play baseball or basketball and lead his team. There's some good to that and some bad to that.
"Everybody wants the immediate gratification, and it's hard to understand that you have to work for a delayed response to that gratification in most cases. Some of it's great, some of it's very frustrating."
Simply put that last part is the most fascinating, and maybe the most important part of the whole conversation. While just about everyone is quick to blame the school for high roster turnover, the simple truth is that the natural pecking order which was once in place is no longer there. Guys no longer "wait their turn" and no longer are willing to do what it takes to earn a starting position, even if it takes two, three or four years to get there.
And that's especially true at quarterback, where the turnover and attrition feels like it's at an all-time high. Just this past winter Texas A&M lost two separate quarterbacks to transfer, and last fall USC lost its own QB just a few days after the start of practice. He never even made it to the first game.
Point being, Helfrich's comments are not only fascinating, but the latest proof that while the topic of transfers is an ongoing debate, it's one that doesn't appear like it will end any time soon.
Just as long as players are willing to skip town to seek playing time, and just as long as there are coaches that are willing to accept them, the practice will continue for the foreseeable future.