Opinion: NASCAR should have given Wood Brothers a Charter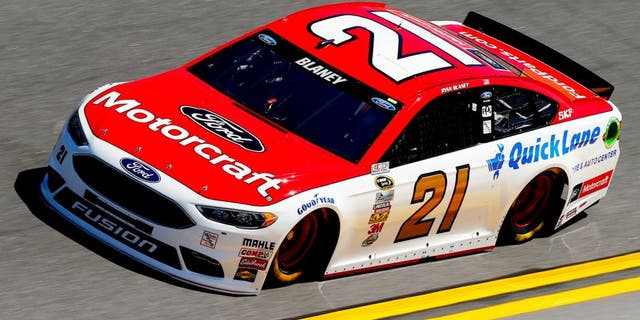 NEWYou can now listen to Fox News articles!
When NASCAR announced earlier this week that it had adopted a Charter system to give 36 teams guaranteed starting spots and a variety of financial benefits, it was widely hailed as a progressive and much-needed step.
And it was a very good move.
Unless you're a fan of the Wood Brothers.
NASCAR's oldest team was founded in 1950 and one of the teams that didn't get a Charter. NASCAR only awarded Charters to teams that ran the full Sprint Cup schedule from 2013-15. During those three seasons, the Wood Brothers competed in only 40 of the 108 Cup races, or about 37 percent of the schedule. Prior to this season, the last time the Wood Brothers ran a full Cup schedule was 2008.
If you look at this objectively with your head, NASCAR's decision was fair. There were conditions the Wood Brothers had to meet to get a Charter and they didn't meet them. Didn't even come close, really. On the face of it, it's a pretty easy decision to make.
If you look at it with your heart, it totally sucks. Eddie and Len Wood are two of the very nicest people in the garage. Their father, Glen Wood, is in the NASCAR's Hall of Fame, as is their uncle Leonard. The Wood Brothers are one of the most important teams in NASCAR history. With the possible exception of the Pettys, no family of racers has contributed more to the sport than the Woods have. They are great ambassadors for the sport and the embodiment of true racers. To some fans, the fact that the Woods didn't get a Charter is unconscionable. Fair enough.
I can certainly understand both sides of this argument.
But here's where the decision not to give the Wood Brothers a Charter doesn't work for me.
NASCAR is built on exceptions. For decades, the rulebook has carried the phrase "except in rare instances," which is basically NASCAR's license to do what it wants when it wants.
Just look at the last four seasons.
In 2013, NASCAR made an exception to allow Jeff Gordon to be the 13th driver in the Chase for the Sprint Cup.
In 2014, NASCAR made an exception to grant Tony Stewart a Chase waiver after he missed three races. Stewart ultimately didn't make the Chase but NASCAR was ready to let him in if he won a race.
In 2015, NASCAR made an exception to grant Kyle Busch a Chase waiver after he missed 11 races. Think about that – Busch missed almost a full one-third of the season and NASCAR let him in the playoffs and he won the championship.
In 2016, NASCAR made an exception to grant Brian Vickers a slot in tonight's Sprint Unlimited when he only ran two races last year.
It sure would have been nice for one more NASCAR exception for stock-car racing's oldest team. Because if ever anything fell under the heading of "except in rare instances," this certainly does.