Opinion: Kurt Busch - not Dale Jr. - was Superman at Charlotte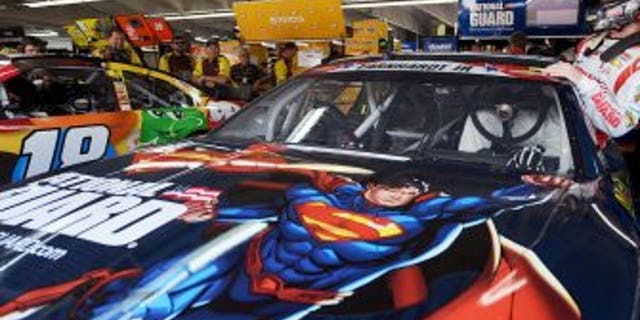 I don't know about the rest of you, but what I saw from Kurt Busch this past week was nothing short of phenomenal. I saw a man accomplish what I believe to be almost impossible. Don't ever lose sight of the fact that before last Sunday, the man had never driven a single lap in open-wheel competition.
Last year he went to Indy and did that little test. Even then it turned heads. For him to have the drive and desire to put himself mentally and physically through the rigors of what he was facing speaks volumes about Kurt's competitive nature. Take a second and think about the competition Kurt put himself up against at Indy.
It's just amazing to me when you add it all up what he accomplished. Kurt never came from an open-wheel background. He qualified his car 12th. He then wrecks his primary car in practice. He goes to a backup car that wasn't even his own backup car, ran the whole race and came home sixth. It'€™s still just utterly phenomenal in my book. I think, obviously, the cherry on top was that Kurt was selected the Rookie of the Race. It'€™s pretty impressive for a driver who never turned a competitive open-wheel lap until last Sunday in IndyCar'€™s version of the Super Bowl.
I don't want to ever diminish what other rookies have accomplished at Indianapolis. My point is those rookies had experience in open-wheel competition in some form or fashion. Again, Kurt Busch had none.
To then come to Charlotte, make the adjustment from a light, super-fast race car to a 3,400-pound stock car and attempt to run 600 grueling miles is simply incredible. Kurt obviously had to start at the rear of the field because he missed the drivers meeting, but I truly believe he had a car that could have finished in the top 10 Sunday night before the engine let go.
I think Kurt's performance will open the door for more NASCAR drivers attempting the "Double." NASCAR rookie Kyle Larson has already said publicly that he wants to do it. He wants his owner, Chip Ganassi, who also is a legendary IndyCar owner, to give him a shot at both races.
I can definitely understand Kyle's feelings. When you are an open-wheel racer, well, Indianapolis is your Mecca. It'€™s your Holy Land. It's the Daytona 500 to someone from the open-wheel ranks.
Where's this all headed? Oh, I don'€™t know, but I wouldn'€™t be surprised if someday we see someone like Juan Pablo Montoya say he wants to run the "Triple" -- that being Monaco, Indy and Charlotte. Once someone accomplishes something that folks say is impossible, the next guy wants to take it a step further and top you. That would be to me the most unbelievable thing a race car driver could ultimately dream of doing.
That's for another day. Let's all give Kurt Busch the respect he deserves for what he did Sunday. I actually think Kurt should have had the Superman sponsorship on his car at both races, instead of Dale Earnhardt Jr., because it really was that kind of moment in motorsports history.