Oops: Rangers stop selling postseason t-shirt featuring Dallas skyline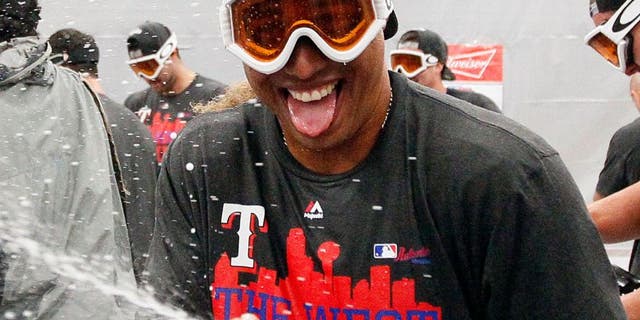 NEWYou can now listen to Fox News articles!
After a team clinches a postseason spot, all of the players and coaches put on their celebratory t-shirts and caps. Meanwhile, fans flood the team stores and official website to snatch up the authentic gear worn by their favorite players so they, too, can celebrate proudly.
After the Texas Rangers locked up the AL West on Sunday afternoon, they put on the official 'Postseason' shirts and gear...only to realize later that their version depicted a silhouette of the Dallas skyline.
Once it was discovered that the official gear featured the skyline of a city the Rangers do not and never have played in, it resulted in 'some predictable grumbling', according to Jeff Mosier of the Dallas Morning News.
Mosier's DMN colleague Evan Grant mentioned that the Rangers didn't know about the erroneous design until it was too late: "Rangers officials, well aware of regional sensitivities, were surprised when they opened the boxes on Sunday afternoon. Clubs are not privy to the designs of the T-shirts and don't see them until they are opened, club spokesman John Blake said."
Arlington City Council member Robert Rivera was one of those who spoke out against the shirt on Twitter:
The Rangers play in Arlington, not Dallas...hence the ruffled feathers about this design malfunction. Other shirts and apparel without a skyline were made available on MLB.com for fans to purchase, but those that obtained the Dallas version now have a bit of a collector's item on their hands.
Fashion gaffes aside, the Rangers open the ALDS against the Toronto Blue Jays on Thursday looking to continue the magical run that helped them sail past their AL West foes en route to an exciting division title.