Only three positions have been taken No. 1 overall since 1997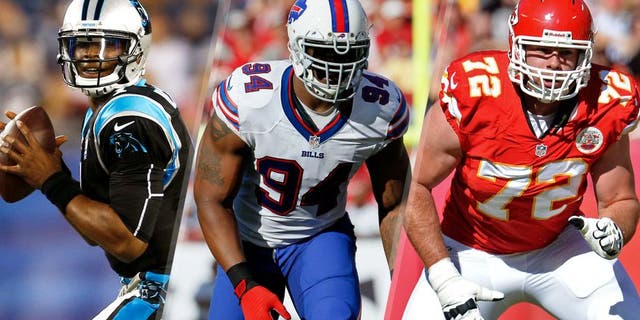 The NFL Draft is just a few months away and the Tennessee Titans will have a big decision to make when they go on the clock with the first overall pick. It shouldn't be all that tough of a decision, though.
Ole Miss offensive tackle Laremy Tunsil is the favorite to go No. 1 overall to the Titans, if they choose to hold onto the pick. If Tunsil is the selection, it will extend a ridiculous streak that proves it's a quarterback-driven league.
Since 1997, every first overall pick has been either a quarterback, offensive tackle or defensive end. And only eight times in that span has the second pick been a position other than those three.
2015: Jameis Winston, QB
2014: Jadeveon Clowney, DE
2013: Eric Fisher, OT
2012: Andrew Luck, QB
2011: Cam Newton, QB
2010: Sam Bradford, QB
2009: Matthew Stafford, QB
2008: Jake Long, OT
2007: JaMarcus Russell, QB
2006: Mario Williams, DE
2005: Alex Smith, QB
2004: Eli Manning, QB
2003: Carson Palmer, QB
2002: David Carr, QB
2001: Michael Vick, QB
2000: Courtney Brown, DE
1999: Tim Couch, QB
1998: Peyton Manning, QB
1997: Orlando Pace, OT
In April, that streak will likely continue. Tunsil is the favorite, but there are a handful of other guys vying to be taken first. Cal quarterback Jared Goff and Ohio State defensive end Joey Bosa are among them, as is the fast-rising Carson Wentz -- though he likely doesn't warrant the first overall pick as of now.
There's no question the NFL has become quarterback-driven in recent years. Passing yards are up and running backs have been devalued. Arguably the three most important positions on the field directly relate to the quarterback. Offensive tackles protect them, and defensive ends try to sack them.
Just look at the Super Bowl as an example. Despite the Carolina Panthers having a superior quarterback in Cam Newton, Denver's pass rushers in DeMarcus Ware and Von Miller were dominant.
Sure, other positions are also important as evidenced by the Broncos secondary and Carolina's linebacker group, but there's a reason why those three positions have been the only ones taken first overall.
Interestingly enough, from 1994 to 1996, the No. 1 picks were defensive tackle (Dan Wilkinson), running back (Ki-Jana Carter) and wide receiver (Keyshawn Johnson), respectively.