Only one Spurs player shows up in Game 2 beatdown by Warriors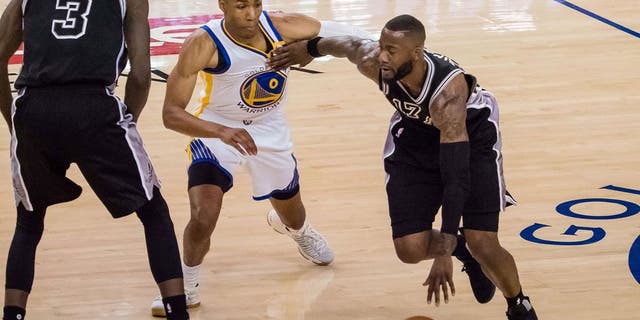 All the talk of the Western Conference finals has been Kawhi Leonard's injury, which opened the door for the Golden State Warriors to rally and win Game 1, and kept the San Antonio Spurs star out of Game 2.
That wasn't why the Spurs got blown out Tuesday night at least not on paper.
Leonard's replacement in the starting lineup, Jonathon Simmons, was the only Spurs player to show up, scoring 17 points in the first half while no other San Antonio player scored more than four. He finished with a playoff career-high 22 points on 8-of-17 shooting in a 136-100 loss. It was the most points allowed in the playoffs by a team coach by Gregg Popovich. The rest of the Spurs combined to shoot 29 of 83 (34.9 percent).
"Jon was… I don't know if the only, but one of the very few who to came to play," Popovich told reporters, and added"Jon was in a category by himself. Everybody else was in the other category."
The only other positivefor the Spurs was watching Game 1 villain Zaza Pachulia exit with a bruised right heel after just seven minutes. Pachulia's closeout on Leonard in Game 1 which was called out by Popovich led to Leonard's third sprained ankle in a week, which swung the series in the Warriors' favor. The Spurs, who were up by 25 when Leonard was hurt in the third quarter of Game 1, have been outscored by 61 points since the injury.
It's unclear if Leonard will suit up for Game 3 when the series shifts to San Antonio.
"I have no idea. Just depends on how the ankle heals," Popovich said before the game. "I'd probably list him as questionable. But the thing that worries me is that he did it again, the exact same thing. So one would logically think maybe it will take longer, but I'm hoping that's not true and we'll have him for Game 3. But I don't know. I don't think we're going to know until Friday and Saturday, probably."
Stephen Curry scored a game-high 29 points in three quarters for the Warriors, who became just the fifth team to win their first 10 games of the postseason.
The Associated Press contributed to this report.