One great game enough to take the East . . . but vs. the West?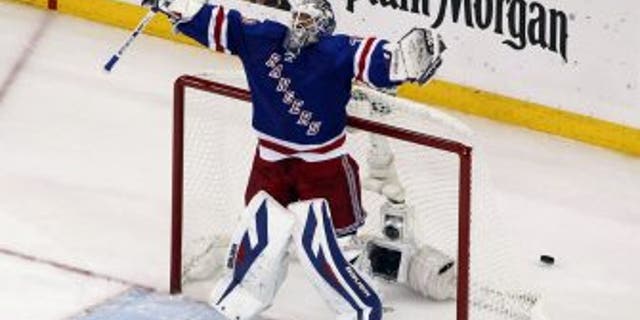 Henrik Lundqvist was practically doing jumping jacks when the final horn sounded Thursday at Madison Square Garden, the Rangers first trip to the Stanley Cup Final in 20 years cemented. He'll need to do plenty more of those because regardless of who New York plays from the Western Conference, the Rangers will be overmatched.
Lundqvist is New York's best hope and with a chance to advance to the NHL's biggest stage for the first time in his career, he was brilliant, stopping all 18 shots he faced in what was admittedly an unimpressive offensive showing by the Canadiens in New York's 1-0 win in Game 6.
"I don't think I've been more determined to win a hockey game," Lundqvist told reporters after the game. "When it's only two or three seconds left and you realize you did it, it's an unbelievable feeling."
While New York moved one step closer to ending a 20-year Cup drought, an entire nation groaned when Montreal came up short, extending Canadian teams' drought to 21 years. Montreal was the last team to win it all in 1993 (one year before the Rangers' last Cup), and the Canadiens looked like destiny's darling after upsetting the top-seeded Boston Bruins in the previous round.
But Montreal looked gassed for much of this series — physically by the Rangers' increasingly impressive forward depth, emotionally by that unexpected win over their longtime rivals.
"It's really tough for tonight, talking about the entire season, because I know what it's like when you get close to achieving a goal," Canadiens coach Michel Therrien said. "It hurts, and it hurts more when you're close. There are going to be 29 teams this year that are going to be disappointed, and one team is going to be enjoying their season while winning the Stanley Cup. That is the purpose."
PLAY OF THE DAY
The Lundqvist windmill: With the Canadiens on a 2-on-1 and the game still scoreless, Thomas Vanek's shot deflected off Rangers defenseman Dan Giradi's stick and started to go into upper portion of the net. But Lundqvist dropped his stick to speed the rise of his blocker and flicked the puck out of harm's way just before it slipped under the crossbar.
TURNING POINT
Power outage: Montreal had a chance to pull even when it began the third period on a power play. But the Canadiens never mustered much of a threat and New York resumed control of a game it seldom looked in danger of losing.
THREE STARS
1. Henrik Lundqvist, G, New York: Lundqvists's ninth career playoff shutout moved him into a tie with Mike Richter for the franchise lead while his 42nd playoff victory is a new franchise record. Lundqvist leads the postseason with a .928 save percentage.
2. Dominic Moore, C, New York: Moore scored his second game-winner of the postseason on a good feed from Brian Boyle from behind the net with 1:53 to play in the second period.
3. Dustin Tokarski, G, Montreal: Tokarski was supposed to be the reason the Canadiens could not advance to the Cup Final, but he played well in place of injured starter Carey Price, posting a 2.60 goals against average and a respectable .916 save percentage.
RECAP
New York 1, Montreal 0
Series: New York wins, 4-2
Key stat: The Rangers had not won a series in fewer than seven games since beating the New Jersey Devils in five games in the first round of the 2008 playoffs.
Key player: Ryan McDonagh, D, New York. McDonagh has looked like a No. 1 defenseman for much of this postseason. He had an assist and logged a team-high 25:27 of ice time in the Rangers' suffocating defensive effort.
What we learned: It's time to take the Rangers seriously. Yes, the Eastern Conference is a far cry from the West so it's difficult to gauge how impressed we should be by New York's run to the Cup Final, but the Rangers' forward depth has looked more and more impressive as the playoffs have progressed, their defense has been rock solid, their speed edge was clear against Montreal and then there's Lundqvist, who looks like a world beater again. Of the two Western Conference teams alive, it's our belief that New York matches up better with Chicago because the Rangers' depth at center would cause problems for the Blackhawks, whose greatest weakness is at that position beyond Jonathan Toews. Lundqvist is also a better goaltender than Chicago's Corey Crawford, and New York would need that edge against Chicago's superior skill. Neither of those advantages will exist against L.A., which has enviable center and forward depth, an equally good goaltender in Jonathan Quick, Cup-winning experience and a red-hot offense that leads the postseason at 3.42 goals per game.
Next game: New York will travel to face the winner of the Chicago/Los Angeles series in Game 1 of the Stanley Cup Final on Wednesday.
Final thought: An interesting fact from the Western Conference final as everyone eyeballs a potential matchup between the nation's two largest media markets: 1) New York and 2) Los Angeles: No. 1 vs. No. 3 (the Chicago market) could be the more lucrative match-up. NBC Sports Group reported that 575,000 households in the Chicago market tuned in to Wednesday's Game 5 of the Western Conference final between Chicago and L.A. on NBC Sports Network — more than three times the 171,000 households in the Los Angeles market that watched the game.
Chicago drew its second-best WCF rating ever on NBCSN with a 16.3 rating, trailing only its 16.6 rating for the Kings-Blackhawks Game 2 of last year's WCF on June 2. Los Angeles delivered a 3.0 rating for the game.
Follow Craig Morgan on Twitter