One & Done: Tom Brown had a blast before winning Super Bowl rings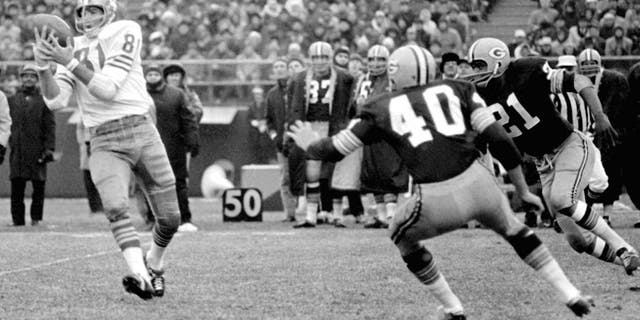 In the world of sports, athletes often dedicate their entire lives to reaching the pinnacle of their profession, but for many, life at the top can be short-lived. Sometimes all a player gets to experience at the highest level is one minute on the court, one trip to the plate, one shot on goal or one checkered flag, but more often than not, that fleeting moment in the spotlight is a story all its own. This is One and Done, a FOX Sports series profiling athletes, their paths to success and the stories behind some of sports' most ephemeral brushes with glory.
In the spring of 1963, Tom Brown had an important decision: Spurn Vince Lombardi or risk disappointing the president. And frankly, neither seemed like a great idea for a guy trying to make a name for himself in professional sports.
A two-sport standout at the University of Maryland, Brown had just been selected by the defending NFL champion Green Bay Packers in the second round of the NFL draft in December, a week before his 22nd birthday. He also had an offer from his hometown Washington Senators to play professional baseball -- and do so in front of baseball fan-in-chief John F. Kennedy -- for a franchise still struggling to find its footing heading into its third season following the original Senators' move to Minnesota.
For most with the competitive spirit of an elite athlete, the choice might be obvious -- go play for Lombardi, where, at the least, the team would be good. The answer wasn't so simple for Brown, who played baseball on travel teams as a teenager, facing squads from nearby leagues and military bases at a time when travel baseball wasn't the full-fledged industry it is today.
Deep down, however, Brown always fancied himself a baseball player, and ultimately, that passion for the game won out over glory of the NFL -- at least for a while.
"I always loved baseball," Brown said in an interview with FOX Sports last week. "I played baseball every day in the summertime, and even though I ended up going to Maryland with a scholarship in football, they let me out of spring football to play baseball. I loved baseball. Football was just an education."
So Brown, an All-American and .449 hitter for the Terps his senior season, reported to spring training in Pompano Beach, Fla., where the rookie found himself competing for the starting first base job in his rookie season thanks in part to President Kennedy.
Before the original Senators became the Twins, Washington was a hotbed for Cuban talent, but the era's political conflict and trade embargo with Cuba put a stranglehold on the once-unfettered stream of Cuban players to the league. In addition, Harry Bright, the Senators' first baseman in 1962, had been traded to Cincinnati, and his backup, Bud Zipfel, was gone, as well.
So the job, in some ways, was Brown's to lose.
"They put me in a game and I got a couple of hits," Brown recalled of his first exposure to professional baseball that spring. "I was a really good fielder and baserunner and didn't make many mistakes, so I guess they figured they'd try me again. The next day they put me in another game and I got a couple more hits. Finally I ended up starting, and they didn't send me down to Pensacola, which was the minor league training camp for the Senators at the time, so I didn't know what they were going to do with me."
At the end of spring, the Senators returned to D.C. with Brown in tow, at which point Kennedy essentially made the decision to put him in the starting lineup for the team.
"I came back to Washington and still didn't know, were they going to send me out, or what were they going to do?" Brown said. "Then finally, it's a tradition in Washington that they'd go to the President of the United States and give him his pass, his season tickets and John Kennedy must have been reading about me in the newspapers said, 'I'll come to Opening Day if you start that boy from Maryland,' so that's how I started Opening Day for the Washington Senators.
"He was going to come anyway," Brown added with a laugh, "but it was fun for him to tell George Selkirk he wanted to see me play."
And sure enough, Brown was batting seventh and playing first base when the team opened the season on April 8, 1963, with Kennedy there to throw out the first pitch in front of more than 43,000 fans at D.C. Stadium. That day, Brown went 0-for-2, lining into a double play in his first big league at-bat then striking out in his second. Brown drew a walk in the seventh inning and was replaced by a pinch hitter in the ninth in the Senators' 3-1 loss to the visiting Baltimore Orioles.
The days that followed didn't go much better for Brown, who started the next three games but failed to register a hit, going 0-for-12 with seven strikeouts. The slump cost him his starting job, and though he finally picked up his first hit -- a pinch-hit single off Jack Kralick -- a few games later, it wasn't exactly a catalyst for success to come.
As Brown struggled, so did the Senators, who replaced manager Mickey Vernon with Gil Hodges in May, and at the end of June, with eight hits in 80 at-bats, Brown was demoted to Double-A York.
By the time Brown was called back up that September, the team, well on its way to its third straight 100-loss season, had little to play for. Infielder Marv Breeding had been traded, freeing up jersey No. 1 for Brown, who had previously worn No. 12, and perhaps the new number made a difference, as Brown hit his only career home run in his second at-bat after returning to the majors.
The hit came on Sept. 9, 1963, in the second game of a doubleheader against the Detroit Tigers. With the Senators trailing 8-1, Hodges called on Brown to pinch hit for Minnie Minoso to lead off the sixth inning.
"It was off Phil Regan," Brown said, immediately recalling the one-time Orioles manager when asked about the homer. "I was a switch hitter, hitting left-handed, and I think he was just throwing one down the middle to get me out -- which a lot of pitchers did.
"Obviously, I'm so proud to have a home run," he added of the blast that cleared the right-center-field fence. "I only had 17 career hits, but one was a home run, so I'll always have that."
Over the final three weeks of the season after the home run, Brown started seven games and made a few more pinch-hit appearances. He went 8-for-32 down the stretch to raise his season average to .147 -- enough, one would think, to make him reconsider his decision to play baseball over football. But when Lombardi came calling again that winter, Brown once again stayed true to his commitment to the Senators.
"In December of '63, I get a call from Lombardi, and he says, 'Brown, we're interested in you for football, but you can't sit out another year,'" Brown said. "So I said, knowing that football was not a year-round sport like it is now, 'Well, Coach, I'm going to continue to play baseball, but by July 1 I'll make a decision if I want to come play for the Packers.' He told me, 'Well it took a lot of guts for you to tell me that. We're still interested in you, but remember, if you don't play this year, we won't be interested in you again.'
"That was not good for me," Brown added of having a backup plan. "Because every time I struck out or had a bad day, I'd say to myself, 'Well, I can just go play football.' "
Before long, he'd done just that. Brown began the '64 season back at York, at the time the Senators' top minor league affiliate, but after 59 games, he turned in his ballcap for a facemask.
"I think it got to be July and I was hitting like .220 down in York, so I called (Lombardi) up and said, 'I'm coming out there,'" Brown said. "I still loved baseball, but it was obviously the best decision I ever made."
In Brown's first season in the NFL, he recorded the first of 13 career regular-season interceptions, picking off a Bill Munson pass in a December game against the Rams. The Packers went 8-5-1 and missed the playoffs, but in 1965, the team rebounded, went 10-3-1 and eventually beat the Cleveland Browns for the NFL championship, with Brown as the team's starting free safety.
The following season, the Packers punched their ticket to Super Bowl I with a New Year's Day win over the Dallas Cowboys in the NFL championship -- a victory that was sealed by Brown's game-ending interception of Don Meredith after Brown himself put the Cowboys on the doorstep of the end zone.
With less than two minutes left in the game and the Packers holding onto a 34-27 lead, Brown interfered with tight end Frank Clarke, whose 68-yard touchdown catch earlier in the quarter closed the gap to seven points. The pass interference penalty was actually charged to Dave Robinson -- Brown admits it was him, though -- and the result was a Dallas first-and-goal from the 2.
After a 1-yard carry by Dan Reeves, the Cowboys had a second-and-goal from the 1. Then a timely false start call backed Dallas up to the 6, and after an incomplete pass and a Pettis Norman reception, the Cowboys had a fourth-and-goal from the 2, with the game on the line.
"They came out in a certain formation that dictated that myself and Herb Adderley were going to play what we called in-and-out," Brown said, detailing a strategy where he would switch to the wide receiver and the cornerback Adderley would cover the tight end on a pass play depending on how the offense lined up.
As part of the play, Robinson was supposed to patrol the flat, but the linebacker abandoned his assignment and chased after Meredith, who had rolled out on a bootleg pass. Robinson ended up with a clear path to Meredith, wrapped him up and pulled him to the ground, forcing a wild throw to try to keep the game alive.
"He throws the ball up in the air, and I just happened to be right there," said Brown, who came down with the game-sealing interception. "It wasn't an outstanding, great interception. I was just in the right place at the right time.
"And it's a good thing, too," Brown added. "I might have been traded in the offseason if they'd scored a touchdown because I was responsible for them getting so close to the goal line in the first place."
Such a reaction wouldn't have been too unusual for Lombardi, after all.
"He motivated us and made us give 100 percent effort on every play," Brown said of the legendary coach. "He corrected mistakes, and if you didn't do what he said to do, he told us, 'Planes, trains and buses leave here every day, and you're going to be on one of them.' "
Two weeks after Brown's interception, the Packers beat the Chiefs 35-10 in Super Bowl I. The following year, Green Bay won the division at 9-4-1, setting the Packers up for another Super Bowl run. Brown had an interception during a 28-7 win over the Rams in the divisional round of the playoffs, and then the Packers prevailed over the Cowboys again in the conference championship game, now known simply as the Ice Bowl.
Green Bay went on to win Super Bowl II over the Raiders, Brown's third consecutive championship with the team, and after one more season in Green Bay under Phil Bengtson, Brown was traded to the Redskins, where he was reunited with his former coach, Lombardi. A chronic shoulder injury later caused Brown to miss most of the 1969 season, and that, combined with Lombardi's death in 1970, led to Brown's retirement.
In the 45 years since his last game as a pro, Brown has worked several jobs in multiple industries, but his passion has always been the non-profit baseball league that bears his name -- a fitting end for a football star whose career truly began on the diamond.
"Vince Lombardi used to say to his players, at least once a year, 'You know, you're not going to be able to play football forever, so find your niche,' " Brown said of the league. "Of course, I said, 'A niche? What the hell is that?' but after my career was over, I thought, 'OK, what am I going to do now?' and I remembered what Lombardi said."
Earlier this month, the 74-year-old Brown officially stepped away from the league after four decades and more than 3,500 young lives changed, but his impact, both on the field and off, won't soon be forgotten.
"You make a decision and you have to live with it, and I think all my life I've made pretty good decisions when it comes to sports," Brown, the original two-sport athlete, said. "I got to hit a home run in the big leagues and I got to play in the Super Bowl, so I'd say that's a pretty good life."
You can follow Sam Gardner on Twitter or email him at samgardnerfox@gmail.com.