One & Done: Kevin Melillo walked proudly during his stint with the A's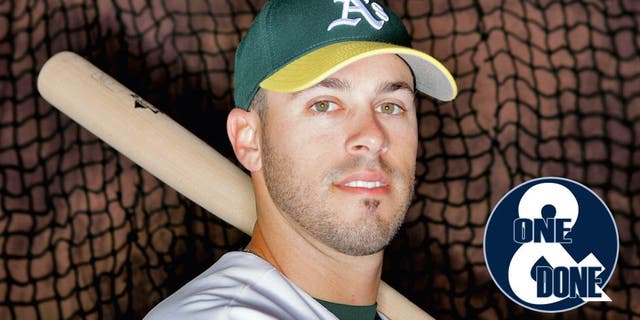 In the world of sports, athletes often dedicate their entire lives to reaching the pinnacle of their profession, but for many, life at the top can be short-lived. Sometimes all a player gets to experience at the highest level is one minute on the court, one trip to the plate, one shot on goal or one checkered flag, but more often than not, that fleeting moment in the spotlight is a story all its own. This is One and Done, a FOX Sports series profiling athletes, their paths to success and the stories behind some of sports' most ephemeral brushes with glory.
Most baseball players spend their entire lives waiting for a call to the major leagues.
Kevin Melillo, however, nearly slept through his -- and he probably would have if the Oakland Athletics hadn't kept hitting redial.
The hilarious case of untimely call-screening came on the afternoon of June 20, 2007, as Melillo, the starting second baseman and leadoff hitter for the Triple-A Sacramento River Cats, was taking a nap in his northern California apartment
Melillo's phone rang and showed a 510 number -- not especially unusual given Sacramento's proximity to the Bay Area -- but Melillo didn't recognize it, so he let it go to voicemail. The River Cats played an 11:30 a.m. game earlier in the day after a game the night before. Melillo walked three times in the 3-0 win over Tacoma and was tired. Whatever it was could wait.
The caller didn't leave a message, but then called back a second time, and a third and a fourth as Melillo kept clearing the calls. Telemarketers, maybe. If it was important enough, they'd let him know, he thought.
Finally they did. It was A's assistant GM David Forst with an urgent voicemail: 'Hey, Kevin, we're going to bring you up. Meet the team in Oakland. You're flying to New York.' Click.
And so began Melillo's first and only stint in the majors.
"I hopped out of bed, called him back, called my agent, my family and then met the team," Melillo told FOX Sports in an interview this week after answering his phone on the second try. "(If he asked), I had a plan to tell him that I was at the gym, doing something more important than I was."
Melillo's journey to the big leagues began in Orlando, Fla., where he was a star at Lake Brantley High School -- alma mater of Jason Varitek, Felipe Lopez and Jonny Venters, among others -- before helping lead South Carolina to three consecutive College World Series trips. In 2004, Oakland took Melillo in the fifth round of the draft, and within a few weeks he was in Vancouver, where he began his minor league career.
In 2005, Melillo slugged his way from Single-A Kane County to High-A Stockton to Double-A Midland, with 24 homers, 93 RBI, 21 steals and a .305 average among his stops. And after another strong season at Midland in 2006, Melillo found himself in major league camp for 2007 spring training.
"I definitely thought that I was on a fast track," Melillo said. "Things were looking up and I was living the dream, and I wasn't thinking too much about it. Obviously the ultimate goal is to get to the big leagues and that's what everybody had in mind, but going through it, I didn't think I was different from anybody else, really. I just thought, 'Hey, I'm playing well and I'm getting rewarded for it.'"
That March, Melillo hit .444, going 8-for-18 with seven singles, one double and an RBI in 14 spring games. The only problem was that Oakland's infield rotation was already pretty solid, leaving little room for first-year A's manager Bob Geren to work Melillo into the mix. So the club sent Melillo to Triple-A Sacramento, where he'd have more opportunities to play.
"I didn't have any expectations (that I was going to make the Opening Day roster)," Melillo said. "I had maybe two full seasons under my belt at that point in the minor leagues and Mark Ellis was penciled in as the everyday second baseman, and Bobby Crosby was at short and (Eric) Chavez at third, and they were all getting big deals, so I knew I'd have to have some fortune work out for me.
"Geren just said, 'Hey, we've been really impressed with you, just keep playing hard and playing well. Go on down to Sacramento and get at-bats every day as opposed to sitting on the bench here in the big leagues, because that's not going to do you any good.' So that's what I did, and I felt like I left there with a good taste in everybody's mouth."
Then on June 20 (after finally picking up the phone) came word that Melillo would join the team on a trip to Shea Stadium for a three-game set against the Mets, the last interleague series of the season. Milton Bradley had just come off the disabled list and was set to be designated for assignment, and the A's wanted another bat available without the benefit of the DH that weekend.
"I thought I was going to be a lot more nervous than I was," Melillo said of the flight from Oakland to New York. "But it's the same game, the same group of guys I was just with two months before in spring training. So I'd known everybody, and the only thing I was really nervous about was getting to Shea Stadium."
Heading into the weekend series, Melillo felt it would be unlikely that he'd be called upon to face a left-handed pitcher, so he remained on the bench, as expected, during Tom Glavine's gem in a 9-1 Mets win that Friday night. Still, Mellilo says he was hopeful he'd get a shot against one particular lefty in the New York bullpen.
"Of course, I wanted to start, and I wanted to play as much as I could, but I was really geared up to maybe get an at-bat late in a game against Billy Wagner," Melillo said. "I just remember Wagner was 100 miles an hour from the left side and I remember thinking, 'I'm probably not going to start, but if I get in a game, I want to face him.' Not a lot of lefties like facing left-handed pitchers if it's a flamethrower like that, but that was an at-bat I was interested in having."
On Saturday night, Wagner did come out of the 'pen for the ninth inning and wound up getting the win in a 1-0 Mets victory. With the game on the line when the pitcher's spot came up in the top of the ninth, Geren decided instead to go with Marco Scutaro, who flew out to right. Had the game been prolonged, perhaps there would have been a chance yet for Melillo to appear, but David Wright's RBI double in the bottom of the ninth ended the game.
"I didn't think it was going to be my only opportunity," Melillo said of his reaction to not getting into either of the first two losses. "I'd had some really good minor league seasons and thought I was maybe going to be a mainstay in that lineup for years to come. So initially, I was like, 'No big deal, I'm not getting in, that's fine,' but in the back of my mind, I almost hoped there would be a blowout one way or another. I knew that would give me a better opportunity to get in a game."
That Sunday, June 24, 2007, Melillo got just that. The Mets jumped to a 5-0 lead after four innings in front of a crowd of 50,143.
In the top of the seventh, the pitcher's spot was due up fourth, and initially it appeared as though things would go the way they had the previous two games as Geren once again called upon Scutaro, who was in the on-deck circle in place of Colby Lewis when Jason Kendall popped out to end the inning. But when the top of the eighth rolled around, after New York expanded its lead to 8-2, bench coach Bob Schaefer told Melillo to get a bat, because he'd be leading off.
Melillo had an inkling that he might be getting in the game after hitting coach Ty Van Burkleo gave him a scouting report on Mets reliever Guillermo Mota between innings -- his change-up was his best pitch -- and when he finally stepped to the plate for his first big league at-bat, Melillo, despite his nerves, kept Van Burkleo's words in mind.
"I don't think I changed my approach whatsoever, especially because of the score," Melillo said. "We were down 8-2 and the last thing I wanted was a one-pitch groundout. The best thing to do in a situation like that is to be selective, be patient, make Mota work, make him throw pitches. You never know what could happen. He could walk the bases loaded, or a guy has an error, and the next thing you know you're back in the game.
"So I didn't want to go up there overly aggressive, trying to pull an outside pitch over the wall and then you wind up rolling over for an easy groundout to second, one pitch, one out. That's not really a productive at-bat. So I tried to keep the same approach and same mindset. I was leading off the inning just like I led off in Sacramento, so I was used to seeing a lot of pitches and making pitchers work, and it played to my benefit."
And then, in front of his parents, his sister and brother-in-law and his fiancee, each of whom had flown up for the series, Melillo drew an eight-pitch walk, fighting off a heavy dose of change-ups to reach base. It wasn't sexy -- Mota retired the side from there, leaving Melillo stranded on first -- but it was enough for a 25-year old who'd had a singular goal from the moment he first picked up a bat.
"I remember walking to the plate thinking, 'This is the culmination of my entire career. This is everything I've worked for and all the people who have supported me, and it's finally coming to fruition,'" Melillo said. "I wish there had been a lot more opportunities, but when I threw the bat and started jogging toward first base, I was like, 'This is it. I've reached base in a major league game. I've officially appeared in a stat book and my life's goal has been achieved.'
"Whether it would have been a pop-up or a ground ball, it would have been the same," Melillo continued. "But being able to be on base and prove that I was able to compete and battle with a guy like Mota in my first major league at-bat spoke a lot about the kind of player that I was and the kind of hitter that I was."
In the bottom of the eighth, Ron Flores took the mound, bumping Melillo from the lineup. After the game, a 10-2 loss, Melillo met briefly with his family before getting on the bus to the airport, where a plane was waiting to take the A's to Cleveland for a series starting the next night. The next afternoon, Melillo showed up to the ballpark and took batting practice, but after Melillo finished in the cage, Geren told him he'd been optioned to Triple-A in favor of another arm with the interleague season over.
"When I found out I got called up, we were starting a three-game series at Shea Stadium then going out to Jacobs Field in Cleveland, then coming back to Yankee Stadium, and I was hoping I would hang on long enough to make that Yankee Stadium trip," Melillo said. "My dad grew up a huge Yankees fan and it would have been a great moment for him and me to play in that setting. It didn't work out, but I remember calling him and saying, 'Well, I got optioned back down to Triple-A, but I'm sure I'll be back up soon.'"
As he flew to Sacramento the next day, Melillo remained confident that his future was with the major league club.
"Don't get me wrong, I was upset," Meillilo said. "Obviously I was disappointed, but I totally understood the business of baseball and why they called up who they called up -- Dallas Braden, a good friend of mine who obviously has a perfect game in the major leagues. ... I was mad, and everybody wants the opportunity to stay up there, but I figured, 'Hey, I did well this first appearance, so I'll see them again, at least, in September.'"
The call-up never came. In fact, almost no River Cats players were added to the expanded big league roster that September, with only first baseman Daric Barton and a trio of left-handed pitchers -- Braden, Dan Meyer and Jerry Blevins -- earning the promotion while Sacramento battled for a Pacific Coast League championship, which it ultimately won.
To make matters worse, Melillo was dealing with a wrist injury that put him on the DL for three weeks and eventually required surgery that October. It wasn't until the following April that Melillo was able to play in a game again, and after 38 games in Sacramento, the A's dealt Melillo to the Blue Jays for cash on June 5, five days after the club designated him for assignment.
"Going in, when I got traded and I was flying from Sacramento to New York (to join the Syracuse Chiefs at Triple-A), I did so optimistically, thinking this was going to be a fresh start," Melillo said. "Whenever one team doesn't want you, the other team does, so it was like, 'I might have worn out my welcome here in Oakland and there might not be a future here, but if Toronto traded for me, then they're interested, they want me.' I was excited. I went there feeling like I could get out there and play well."
In 68 games with Syracuse, Melillo posted a .256/.332/.465 slash line and had 16 doubles, nine home runs and 36 RBI, but he was no longer an everyday starter, despite being on the 40-man roster. At the beginning of September, Toronto recalled five players from Triple-A, including two position players, but Melillo was not among them. The following spring, Melillo asked for and was granted his release, but after signing with the Brewers, 2009 turned out to be his worst season as a pro.
Melillo saw improvement with the Pirates' Triple-A club in Indianapolis the following season and after signing a one-year deal with the Angels in 2011, he got off to his best start since 2005, batting .284 with four homers and 19 RBI through 46 games for Triple-A Salt Lake City. But before Melillo's momentum could carry him to a second big league call-up, a serious knee injury and subsequent surgery ended his season and, effectively, his career.
"At that point it was like, 'I'm going to be out of the game for a while, I'm 30 years old, and it's going to be tough to sell myself as a free agent who hasn't had a major league appearance since 2007 coming off a knee injury,'" Melillo said. "I had eight months to think about whether I was going to make a comeback or not. I talked to my agent at length about it and teams were asking about me and requesting a medical evaluation from my surgeon. But when they got the report back, they'd say, 'Yeah, it's just too risky, we're not going to sign him.' At that point I understood, and I was really comfortable with what I was going to be getting into after baseball."
In some ways, calling it quits was tough for Melillo, but he says it worked out for the best. For most of Melillo's playing days, he lived away from his family, which at that point had grown to include a child, and there was something to be said for permanence after a career that offered little in the way of consistency. Today, Melillo works in the medical industry and lives near Charlotte with his wife and two young daughters and says he doesn't regret for a second the way his baseball career played out.
"I confirmed to myself that I can compete at that level," Melillo said of his one-game big league career. "I got on base and nobody can take that away from me. I played in a major league game, and everything that led up to it supports the case that I could play.
"I had a lot of success in the minor leagues, and I'm glad my parents and my family got to experience watching me play in a major league game," he continued. "It sets you up great for the rest of your life. I still tell people, 'Hey, I played in the big leagues,' because I did. It's a great conversation piece in every walk of life. It's something I'm proud of myself for doing and accomplishing, but that chapter of my life is closed. I wish it could have been a lot more, but it is what it is, and I'm totally content with that."
You can follow Sam Gardner on Twitter or email him at samgardnerfox@gmail.com.