One & Done: Eagles QB Mike Boryla was an unlikely Pro Bowl hero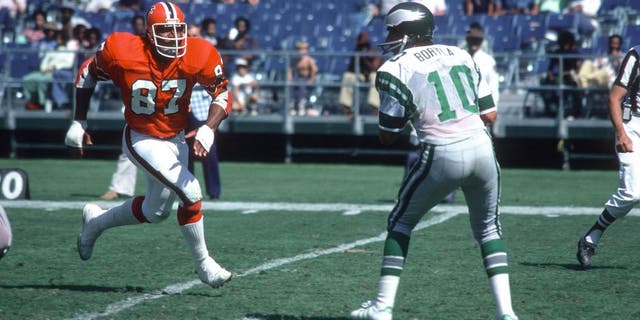 In the world of sports, athletes often dedicate their entire lives to reaching the pinnacle of their profession, but for many, life at the top can be short-lived. Sometimes all a player gets to experience at the highest level is one minute on the court, one trip to the plate, one shot on goal or one checkered flag, but more often than not, that fleeting moment in the spotlight is a story all its own. This is One and Done, a FOX Sports series profiling athletes, their paths to success and the stories behind some of sports' most ephemeral brushes with glory.
Each year as the Pro Bowl approaches, it's inevitable that some -- many? -- of the NFL's biggest names will back out of the game due to injury, disinterest, Super Bowl obligations or some combination thereof.
This year, LeSean McCoy, Aaron Rodgers, J.J. Watt, Calvin Johnson and Brandon Marshall are among the 17 stars (and counting) who are taking a pass on playing in Sunday's game in Honolulu, while 10 Carolina Panthers and four Denver Broncos will be too busy preparing for a Super Bowl to compete in the annual exhibition.
With so many selected players not participating, it's a virtual certainty that some of the replacements brought in to fill out the rosters won't necessarily be Pro Bowl-worthy, but as stand-ins go there may not be a player in NFL history who was less qualified to play in the league's annual all-star game than Philadelphia Eagles quarterback Mike Boryla was after the 1975 season.
Of course, that didn't stop Boryla from winning the game for the NFC.
"It's really what my career was known for," Boryla, told FOX Sports on Monday. "Those five minutes."
Though his Pro Bowl cameo came at the Superdome in January 1976, Boryla got his first taste of the league during his 1974 rookie season. The son of former New York Knicks forward Vince Boryla and a fourth-round pick out of Stanford, Boryla replaced starter Roman Gabriel late in the season after the team's 4-7 start and led the Eagles to three straight wins to close the year, throwing for 559 yards and five touchdowns in the process.
Gabriel, the 1969 NFL MVP, was still the more accomplished of the two quarterbacks, but Boryla's mop-up play in '74 was good enough to earn him the starting job in '75. However, Boryla was subsequently benched for Gabriel during Philly's season-opening loss to the New York Giants, and he remained on the Eagles sideline for most of the next two months, save for a brief (and ineffective) appearance in a 42-3 Monday night loss to the Los Angeles Rams.
The move didn't pan out, though, and the Eagles were once again struggling. So after a loss to the Dallas Cowboys dropped Philadelphia to 2-8, coach Mike McCormack went back to Boryla to try to end the season on a high note.
The initial results were promising, as Boryla threw for 241 yards and three touchdowns during a win over the San Francisco 49ers in his first game back in a starting role. He returned to earth from there on out and finished the season with 996 passing yards, six touchdowns and 12 interceptions over the course of seven total appearances, while the Eagles ended up 4-10.
After the season ended, the Pro Bowl was the furthest thing from the then-24-year-old Boryla's mind, to the point where he was getting ready to start law school at NYU when his participation in the game became a matter of necessity.
"I'd purchased my books and had gotten my schedule, and then the general manager of the Eagles contacted me and said I'd been selected to play at the Pro Bowl," Boryla said. "So I had to drop out of law school and fly down to New Orleans."
At the time, the NFC had 13 teams, and Minnesota Vikings quarterback Fran Tarkenton, the league MVP, was initially named the conference's starter in the game. Tarkenton balked at the invitation due to a sore arm, however, and Dallas Cowboys legend Roger Staubach, fresh off a Super Bowl X loss to the Pittsburgh Steelers, also declined, citing sore ribs.
After that, NFL officials tried to convince Archie Manning and Steve Bartkowski to play in the game, but both said no, citing sore arms of their own according to the Chicago Tribune. So the league finally landed on Boryla, the NFC's 15th-leading passer and the second-most effective quarterback on his own team, to back up the St. Louis Cardinals' Jim Hart.
"I was surprised, but I knew why the other quarterbacks in front of me probably didn't want to play in the game," Boryla said. "You know, half the quarterbacks are injured by the end of the year anyway, so I understood why they might say, 'No, I'm not playing in another game.' But I didn't care."
Unfortunately, there was one problem. Getting to the Pro Bowl and actually playing in it turned out to be totally different things, and as the fourth quarter wound down, the NFC was trailing 20-9 and Boryla hadn't yet checked in. That was when Boryla's Eagles teammate Charle Young took matters into his own hands and got Boryla on the field.
"Charle walked up to me and said, 'Mike, you need to go up to that head coach and tell him to put you in because you haven't played yet and you didn't come here just to watch the game,' " Boryla recalled. "I told him, 'Charle, this is my second year, I'm really happy just to be here, and I'm not going to go up to him and tell him to put me in.'
"So Charle walked right up to Chuck Knox -- he was the head coach from the LA Rams -- and Charle Young is one of those guys that, when he speaks, people listen. So I could see him speaking to (Knox), but he was about 10 yards away so I couldn't hear what he was saying. And then next thing I know, an assistant coach was running up to me saying, 'Warm up, Mike, you're going in.' "
With 5:39 remaining, Boryla finally entered the game in place of Hart and took over at the NFC 36 following a Ray Guy punt. His first series nearly ended before it could get started, as Minnesota Vikings running back Chuck Foreman fumbled on Boryla's second snap, but the NFC recovered, and soon after a 25-yard pass to Cardinals receiver Mel Gray put the NFC in AFC territory.
Two plays later, a pass interference penalty gave the NFC the ball at the AFC 14, and after an incomplete pass intended for Detroit Lions tight end Charlie Sanders in the end zone, Boryla threw a touchdown pass to Terry Metcalf, another Cardinals star and Hart teammate, on a play of Boryla's own design.
"The coaches let the quarterbacks at that time put in their favorite play, and my favorite play was called the Boryla Special," Boryla said. "The coaches sent in the Boryla Special from the sideline, so I faked a running play, faked a reverse, then hit (Metcalf) on a down-and-out for a touchdown."
The score closed the gap to 20-16, and after the NFC defense forced a three-and-out, Boryla came in for a second series, which started at the AFC 39 thanks to a 40-yard punt return. With only 1:44 left to play, Boryla was short on time, but he didn't end up needing much. A 26-yard pass to Foreman put the NFC down inside the AFC 10, then Boryla found Gray in the end zone two plays later to give the NFC a 23-20 lead with 1:09 left.
From there, the NFC held off the AFC offense, and though the game MVP award went to Houston Oilers speedster Billy "White Shoes" Johnson, who set a Pro Bowl record with a 90-yard punt return for the AFC, it was Boryla -- the last player anyone expected -- who was praised as the hero of the NFC's win.
"I remember I was in the locker room after the game, and Howard Cosell, who I'd known from being interviewed before, came in and said, 'Mike, I'm really sorry that you didn't get MVP,' " Boryla said. "He said they had already voted for the winner of the MVP award before I even got in. So Billy won the car, but he said I was actually the MVP."
From there, Boryla faded into relative obscurity. In 1976, he appeared in 11 games for the Eagles, making 10 starts, and in 1977, after the arrival of Ron Jaworski in Philadelphia, Boryla signed with the Tampa Bay Buccaneers. The upstart Bucs' prospective starter, Boryla missed the entire '77 season with a knee injury -- a loss coach John McKay described as "the most devastating single blow we've had" -- then appeared in one game for the team in 1978, after Tampa Bay drafted Doug Williams.
Once retired, Boryla finally did go to law school, at Stetson University in Florida, then moved to Denver, where he was a lawyer and later a mortgage banker. More recently, Boryla became interested in playwriting, a passion he now pursues full-time, and in 2014, his one-man play, "The Disappearing Quarterback," got a 30-show run at Plays and Players Theatre in Philadelphia.
It's an opportunity Boryla says he would have never gotten had it not been for his infamous Pro Bowl win, and even after 40 years, the game is a memory he still cherishes -- even if it's an opportunity some feel he never should have gotten.
"I'd started a number of games with a very poor offensive line in Philadelphia, and I would always be incredibly sore and physically hurt after a game," Boryla said of the experience. "And this was the first game I ever played in my life where I didn't even get touched. I had never experienced that before.
"I didn't expect to be a Pro Bowl quarterback in my second year," he added, "But what the heck. I didn't mind it at all."
PREVIOUS ONE & DONES
May 5: Mario Andretti
May 12: Dean Morton
May 19: Ross Browner
May 26: Dave Salvian
June 2: Mine That Bird
June 9: Kerwin Bell
June 16: MIchael Campbell
June 23: Tyson Wheeler
June 30: Roe Skidmore
July 7: Steven Hill
July 14: LaMarr Hoyt
July 21: Bernard Quarles
July 28: Matt Tupman
August 4: Kevin Melillo
August 11: Roy Gleason
August 18: Cory Aldridge
August 25: Tom Brown
September 1: Tony Cloninger
September 8: Mike Pantazis
September 15: Wilbur Wood
September 22: Doug Clarey
September 29: Danny Young
October 6: Chad Wiseman
October 13: David Matranga
October 20: Brad Fast
October 27: Zenyatta
November 3: Ohio Northern
November 10: Dave Scholz
November 17: Matt Walsh
November 24: Clint Longley
December 1: Steve O'Neal
December 8: 1985 Miami Dolphins
December 15: 1998 New York Giants
December 22: Ed Podolak
December 29: Scott Skiles
January 5: Bram Kohlhausen
January 12: 1968 New York Jets
January 19: Ricky Proehl
You can follow Sam Gardner on Twitter or email him at samgardnerfox@gmail.com.