Once-dominant Vikings defense looks to get back on track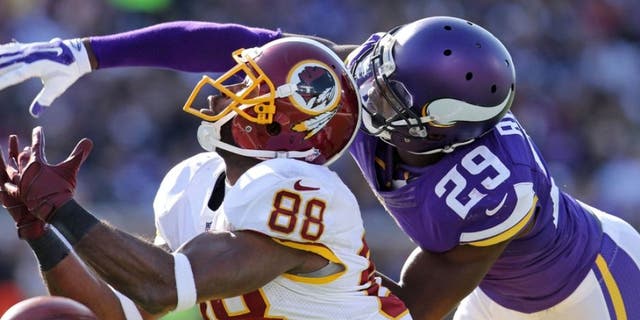 EDEN PRAIRIE, Minn. -- The defense that was so dominant during Minnesota's 5-0 start has morphed into a rather ordinary unit.
Opponents have since adjusted with quick passes and well-timed play calls to neutralize what has been a relentless rush, the turnovers haven't come as often and the Vikings have been more susceptible to those confidence-sapping third-down conversions.
Just as much of a factor in the recent rut, though, could be the seemingly illogical problem of players trying too hard to help stop the slide.
"When you're struggling and you've got a bunch of really good guys, guys that really care, guys tend to try to do a little too much, including myself," coach Mike Zimmer said.
"Instead of allowing guys to make plays, you try to make plays for them. We just need to settle down. We need to do what we do. Get back to being the Vikings defense again."
Washington's Kirk Cousins averaged around 2 seconds to release the ball when he dropped back to pass last week, when the Vikings (5-4) lost their fourth straight game . Detroit's Matthew Stafford and Chicago's Jay Cutler followed similar quick-throwing strategies in the games before that.
"We're going to have to adjust how we do some things with the pass rush," Zimmer said.
The Vikings have only three sacks over the past four games. Not coincidentally, each of the past three opponents have converted exactly half of their third downs.
"If you look at the tape, they're getting the ball out quick. They're running boots. They're running screens. They're doing all the things to slow us down in the rush," defensive end Everson Griffen said.
"We can't get frustrated. We've just got to get out there and keep rushing. Sacks come in bunches. Do we want more sacks? Yeah, but I'd rather have wins than sacks."
Missed tackles have a problem, too, none more costly than in overtime against the Lions when cornerback Xavier Rhodes and safety Harrison Smith both whiffed during Golden Tate's winning touchdown reception .
The Arizona Cardinals (4-4-1) will bring plenty of challenges for the Vikings to U.S. Bank Stadium on Sunday, with running back David Johnson chief among them.
Still, it's worth remembering that the Vikings defense, despite the lag of late, remains a daunting matchup for opponents, too. The Cardinals were raving this week about Zimmer and his scheme.
"He's one of the best defensive play-callers in the game," wide receiver Larry Fitzgerald said. "He's just got a wealth of knowledge. He does a great job of trying to break down opponents and trying to neutralize the things that they do well, and you couple that with an unbelievable amount of talent."
After missing nickel cornerback Captain Munnerlyn against the Redskins because of an ankle injury, the Vikings should be back to full strength in the secondary.
"It definitely was a tough, tough situation for me to watch the game," Munnerlyn said. "I kind of got mad here and there, probably kicked some boxes or something, punched a box here and there."