Once a USC commit as a seventh grader, David Sills finally begins college football career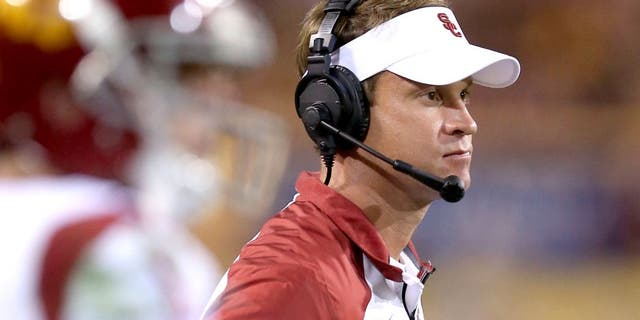 David Sills made national headlines for all the wrong reasons in 2010 when he announced, as a seventh grader, that he was committing to USC.
Lane Kiffin was in his first season as the Trojans' head coach after a stint at Tennessee. He'd seen video of the 13-year-old quarterback and was more than impressed. But not everything turned out as rosy. Kiffin eventually would be fired and Sills, as many expected, changed his mind about Los Angeles. Five years after his commitment, Sills is at West Virginia.
Sports Illustrated writer Chris Johnson has the details on how Sills would become a USC commit and the process that eventually led to a change of heart.
"After working with Sills for multiple years, [Steve] Clarkson was pleased with how Sills had developed, but he wanted an objective assessment of the then-13-year-old from someone he trusted," Johnson writes. "Clarkson sent Kiffin -- who had recently left Tennessee to become USC's coach -- a link to some film of Sills. Kiffin was intrigued by what he saw and inquired about Sills' age. When Clarkson informed Kiffin that Sills was 13, he recalls Kiffin responding, 'Get the F out of here.' About 20 minutes later, Clarkson says, Kiffin called him back to inform him that he would offer Sills a scholarship."
It's a great piece with enticing details. If you ever wondered about Sills and his recruitment process, this is a must-read.
(h/t Sports Illustrated)
Photo Credit: Christian Peterson, Getty Images