Once a media mockery, Tyler Seguin transforms into media darling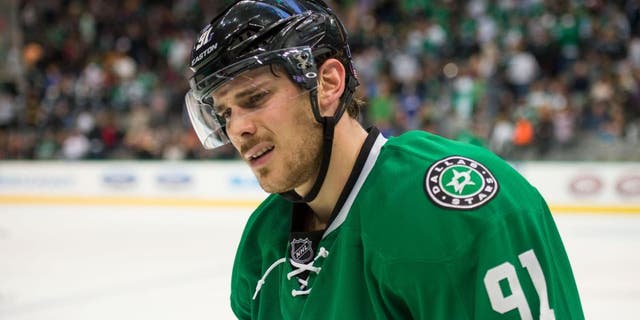 NEWYou can now listen to Fox News articles!
When Tyler Seguin first joined the Dallas Stars, he was the type of player who only saw negative headlines about himself in the media. The issues stemmed from incidents while with the Bruins. He was once scratched for missing a team breakfast, was reported to be a heavy partier, and he made a few missteps on social media.
It was all the type of behavior that was understandable coming from a 21-year-old. Now, two years later, Seguin has learned from his mistakes, and his personal growth shows in the now mostly positive headlines about the star scorer. This summer, Seguin posed in ESPN Magazine's body issue. He played a minor role in the sequel to the hit hockey movie, Goon. He even authored a piece in The Player's Tribune last January.
Seguin spoke about his rise to positive prominence with the Dallas Morning News recently, and he said his increasing celebrity presence is all about simply trying new things.
"You can call it expanding the brand or whatever, but I think it's just fun to be out there and to be able to talk to top athletes in other sports and see what they're doing," Seguin said to the Dallas Morning News. "I'm meeting LeBron James and Kobe Bryant and Derek Jeter. I get to pick their brains, and they're superstars who have made it, and that's where I want to be some day."
But despite all the extracurriculars, Seguin said his focus remains on hockey. When he had an 8 a.m. flight to Los Angeles for a meeting with his publicist, Seguin scheduled a 4:30 a.m. workout with his trainer so he would not miss the necessary gym time.
"He's one of the best clients I have, because he's disciplined, he's prepared and he's focused," publicist Amber Clapp said to the Dallas Morning News. "You can tell that he's lived his life that way, because that's how he approaches the job."
Her words are a far cry from what the Bruins were saying about Seguin two years ago. But two years can greatly change a person, especially one as young as Seguin, and if this summer is any indication, Seguin should hear even more positivity in the years to come.
(h/t Dallas Morning News)