On this day: NASCAR's first 'Strictly Stock' race took place in 1949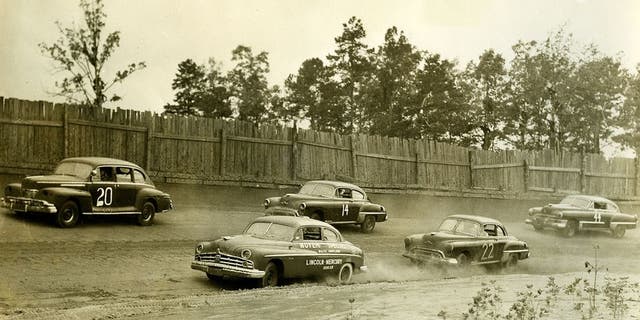 NEWYou can now listen to Fox News articles!
On this date 68 years ago,the very first NASCAR race of what is now the Monster Energy Series took place.
The very first Strictly Stock race took place at Charlotte Speedway, June 19, 1949, in a 150-mile race on the three-quarter mile speedway, which was located about 20 minutes down I-85 from the current Charlotte Motor Speedway.
Bill France decided to make the move in 1949 to outlaw the modifieds and run strictly stock cars so that fans could relate to the cars and drivers.
Most of the cars were driven to the track and it was set to have the fastest 33 drivers enter the race, an ode to the Indianapolis 500 field.
Several drivers showed up in hopes to find a car to drive at the track, including the initial race winner Glenn Dunnaway, Tim Flock, and a handful of others.
Dunnaway took the lead in the final laps and won the race but in the post-race inspection from NASCAR, headed by Al Crisler, it was found that his car was fitted with stiffened springs.
Thats because his No. 34 Lincoln was owned by Hubert Westmoreland, a bootlegger, who used the stiffer springs to deliver his moonshine quicker.
NASCAR disqualified Dunnaway and awarded Jim Roper as the winner of the very first NASCAR race in his R.B. McIntosh-owned Lincoln.
ISC Archives via Getty Images | RacingOne
Some of the sports earliest stars were in attendance that day, including the Flock family, Tim and Fonty, Lee Petty, Sara Christian, Buck Baker, Red Byron, Curtis Turner, and inaugural NASCAR Series champion Red Byron.
Along with the 33 drivers were nine different types of automobile Buick, Cadillac, Chrysler, Ford, Hudson, Kaiser, Lincoln, Mercury, and Oldsmobile.
Hill Overton Jr., who served as a track announcer at Darlington Raceway and Rockingham Speedway over a nearly 50-year career in NASCAR, was also in attendance of that first race as a 13-year-old and shared his memories of the event with FOXSports.coms Joe Menzer in his book The Wildest Ride.
The track was mainly in a residential area. There were lots of complaints about the noise and the dust in the neighborhood, Overton Jr. said. There was an overflow crowd, so we found a weeping willow tree on a high bank over turn three. There was just a board fence around the track in those days. So we watched the race and ate dirt from up there, and that was my first real NASCAR exposure.
In attendance with his father that day was the driver who would win more races than anyone in NASCAR, Richard Petty.
His father, Lee, competed in the first race and was battling for second-place when he got in an accident and flipped four times, stranding the two who drove the race car to the track.
He turned it over, tore it all to pieces, so we had to find another way home, Richard Petty said. I rode with daddy and them to the race in the race car, and we didn't know at first how we were going to get back. I thought my uncle was down there, and we were going to thumb a ride with him, but it turned out we didnt have a way home.
Petty, ultimately got a ride from a family friend who was in attendance and a flatbed truck had to come the next day to get his dads race car.
You cant win the race if youre not in it at the end, was the lesson that Lee shared with his son, Richard, which became the family mantra.
While the cars of today dont have much in common with their production version on the streets, the initial step to run a strictly stock series endeared NASCAR to its fans and helped grow the sport to what has become a multi-billion-dollar industry.
Matthew T. Thacker | Matthew T. Thacker LAT Images www.NigelKinrade.com