On Day 2 of NFL free agency, Panthers WR Steve Smith, Bucs CB Darrelle Revis wait for word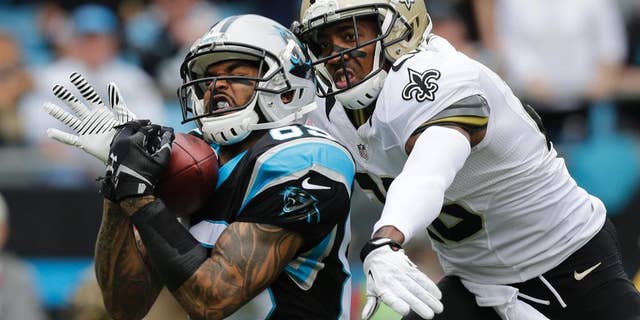 As Day 2 of the NFL's free-agency period began to unfold, Carolina Panthers receiver Steve Smith and Tampa Bay Buccaneers cornerback Darrelle Revis were waiting to find out whether they might be traded or released.
Smith's agent, Derrick Fox, told The Associated Press on Wednesday that the five-time Pro Bowl pick "is not going to play for the Panthers next year, I know that. I just don't know when that transaction is going to take place."
Fox said he expected Smith to get cut, although Carolina was trying to trade him.
Revis, meanwhile, was in a similar situation with the Bucs, who got him from the Jets last year for a 2013 first-round draft pick and a 2014 fourth-round choice.
If Revis was still on Tampa Bay's roster by 4 p.m. ET on Wednesday, he was going to be due a $1.5 million bonus, and the Bucs would need to upgrade that 2014 draft pick to a third-rounder. The Bucs added a top-flight cornerback Tuesday, giving a four-year contract to former Titans player Alterraun Verner.
In early movement Wednesday, Cleveland continued to revamp its defense for new head coach Mike Pettine. The Browns added a cornerback, Isaiah Trufant, who was a backup with the Jets last season, a day after agreeing to terms with safety Donte Whitner of the 49ers and linebacker Karlos Dansby of the Cardinals.
Elsewhere, Rams guard Chris Williams signed a four-year contract with the Bills, while Bucs linebacker Dekoda Watson went to the Jaguars.
In other moves:
— Yet another pass rusher became available when defensive end Chris Clemons was released by the Super Bowl champion Seahawks in a salary-cutting move. Clemons was due to make $7.5 million in base salary next season. He is the fourth member of Seattle's defense to be released or sign with another club as a free agent.
— Running back Pierre Thomas agreed to a two-year contract extension with the Saints.
— Placekicker Josh Brown and safety Stevie Brown re-signed with the Giants, who waived linebacker Marcus Dowtin.
— The Steelers re-signed safety Will Allen, long snapper Greg Warren and offensive lineman Cody Wallace.
— The Eagles agreed to deals with two players expected to help on special teams, former Seahawks safety Chris Maragos and former Texans linebacker Bryan Braman.
Once teams were allowed to sign free agents from other clubs Tuesday afternoon, the moves kept coming — even into the night.
One of the biggest names on the market, cornerback Aqib Talib, joined the Broncos late Tuesday with a six-year deal that lured him away from the Patriots. Other late-night moves Tuesday included running back Donald Brown heading to the Chargers from the Colts, and right tackle Austin Howard going to the Raiders from the Jets.
The 49ers acquired left tackle Jonathan Martin — the player whose accusations were at the heart of the Dolphins' bullying case — from Miami for a conditional draft pick. Martin was reunited with San Francisco head coach Jim Harbaugh, who also coached the player in college at Stanford.
"I believe everybody deserves an Etch-A-Sketch opportunity and an opportunity to start a new chapter," Harbaugh said in a telephone interview with the AP on Wednesday.
___
AP Sports Writers Tim Booth, Janie McCauley, Steve Reed, John Wawrow and Tom Withers contributed to this report.
___
Follow Howard Fendrich on Twitter at http://twitter.com/HowardFendrich
___
Online: AP NFL website: www.pro32.ap.org and www.twitter.com/AP_NFL