Omar Bravo Scores Twice, Giovani dos Santos Saves Racing Santander, and Chicharito Starts but Goes Quiet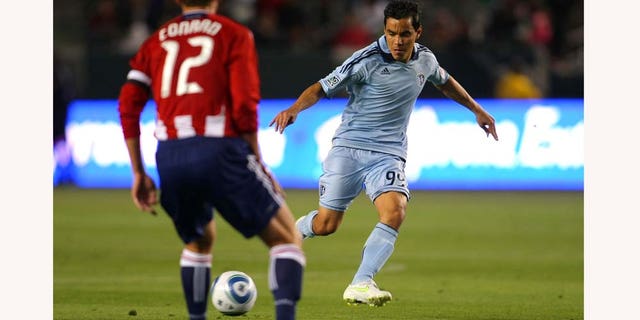 A weekly recap of how Mexican internationals fared over the weekend.
Omar Bravo
Bravo could not have asked for a better first match in his Major League Soccer debut, striking twice in the first half of Kansas City's 3-2 victory over Chivas USA at The Home Depot Center in Carson, Calif. For his performance, Bravo was voted the first MLS player of the week of the season by the North American Soccer Reporters on Monday.
A former standout at Chivas de Guadalajara, the 31-year-old Bravo connected three minutes into first-half stoppage time to give KC a 2-0 lead and gave the visitors some breathing room via a 3-1 advantage by sending home a Kei Kamara feed in the 74th minute.
"I think the first 25 minutes he struggled," KC manager Peter Vermes said, "because he was so anxious, being the DP [designated player], playing against Chivas USA.
"I think there were so many things that he wanted to prove and then he calmed down," Vermes added. "Once he calmed down, that's when he started playing his game."
Vermes told MLSSoccer.com: "Both of his goals were very timely. They came at very important times in the game. They just showed his class because, if you think about it, both goals – the one over the head, the one little touch inside – that's not easy, and he finished very well."
Needless to say Bravo was quite pleased with his debut.
"I'm happy with my debut in MLS, happy because the team won, happy because, to a certain point, the crowd respected me and treated me well, and that leaves me pleased and relaxed," he told reporters.
Dos Santos, on loan from Tottenham Hotspur (England), broke a 1-1 deadlock in the 77th minute to propel Racing to a 2-1 win over Real Sociedad on Sunday.
He scored only five minutes after Real's Antoine Griezmann scored to equalize. The victory kept Racing four points out of the relegation zone.
In a role reversal, Chicharito started in Manchester United's 1-0 victory over Bolton in the English Premier League on Saturday. Hernández came off at halftime for Bulgarian striker Dimitar Berbatov, who connected for the game-winner in the 88th minute.
Angel Reyna
Reyna, a forward, converted a penalty kick in the 90th minute for America, which dropped a 2-1 decision to defending champion Monterrey in the 11th round of the Mexican Clausura championship on Saturday.
Carlos Salcido
The left fullback was forced to clear the ball twice off the Fulham's goal line in the 2-1 loss to Everton in the EPL on Saturday. He saved a goal in the 30th minute and headed the ball out of harm's way in the 83rd minute when Fulham was trying for the equalizing goal.
Rafa Márquez
The Mexican National Team captain played a solid game at central defender for the New York Red Bulls in their 1-0 MLS season-opening win over the Seattle Sounders FC Saturday night. Márquez took all of the Red Bulls' free kicks and corner kicks, but the hosts did not score of his spot kicks.
Jonathan dos Santos
Santos, a midfielder, did not score in Barcelona B's 1-1 draw with Huesca in the Spanish Second Division, although he did have a decent scoring opportunity in the fourth minute. Dos Santos was replaced by Carlos Carmona in the 81st minute after Barca had equalized.
Andrés Guardado
The midfielder struggled in Deportivo Coruña's 1-0 loss to Levante in La Liga on Sunday. Guardado began the match on the wing, but eventually was moved to central midfielder. He was replaced by Michel in the 76th minute in what some observers felt was one of Deportivo's worst games of the season.
Héctor Moreno
Due to his seventh yellow card of the season, one he received in Alkmaar Zaamstreek's 2-1 road win at JC Roda in the Dutch First Division last week, the defender did not play in the 3-1 win over Vitesse on Saturday.
Francisco Javier Rodríguez
Rodríguez did not play for first-place PSV Eindhoven in its 1-0 triumph over FC Utrecht in the Dutch First Division on Sunday.
Efraín Juárez
Juárez did not perform in Celtic's 2-1 extra-time loss to archrival Rangers in the Scottish Cup final at Hampden Park in Glasgow on Sunday.
Carlos Vela
Vela did not dress for West Bromwich Albion's 2-2 EPL home draw with Arsenal on Saturday.
Pablo Barrera
Barrera also did not dress for West Ham United for its scoreless away tie with Tottenham Hotspur in EPL action on Saturday.
Francisco Mendoza
The former Mexican international returned to Chivas after two-year absence.
Michael Lewis, who has covered international soccer for three decades, is a frequent contributor to Fox News Latino. He can be reached at SoccerWriter516@aol.com.
Follow us on twitter.com/foxnewslatino
Like us at facebook.com/foxnewslatino