Olympics after Olympics, Carmelo Anthony making case as best Team USA player ever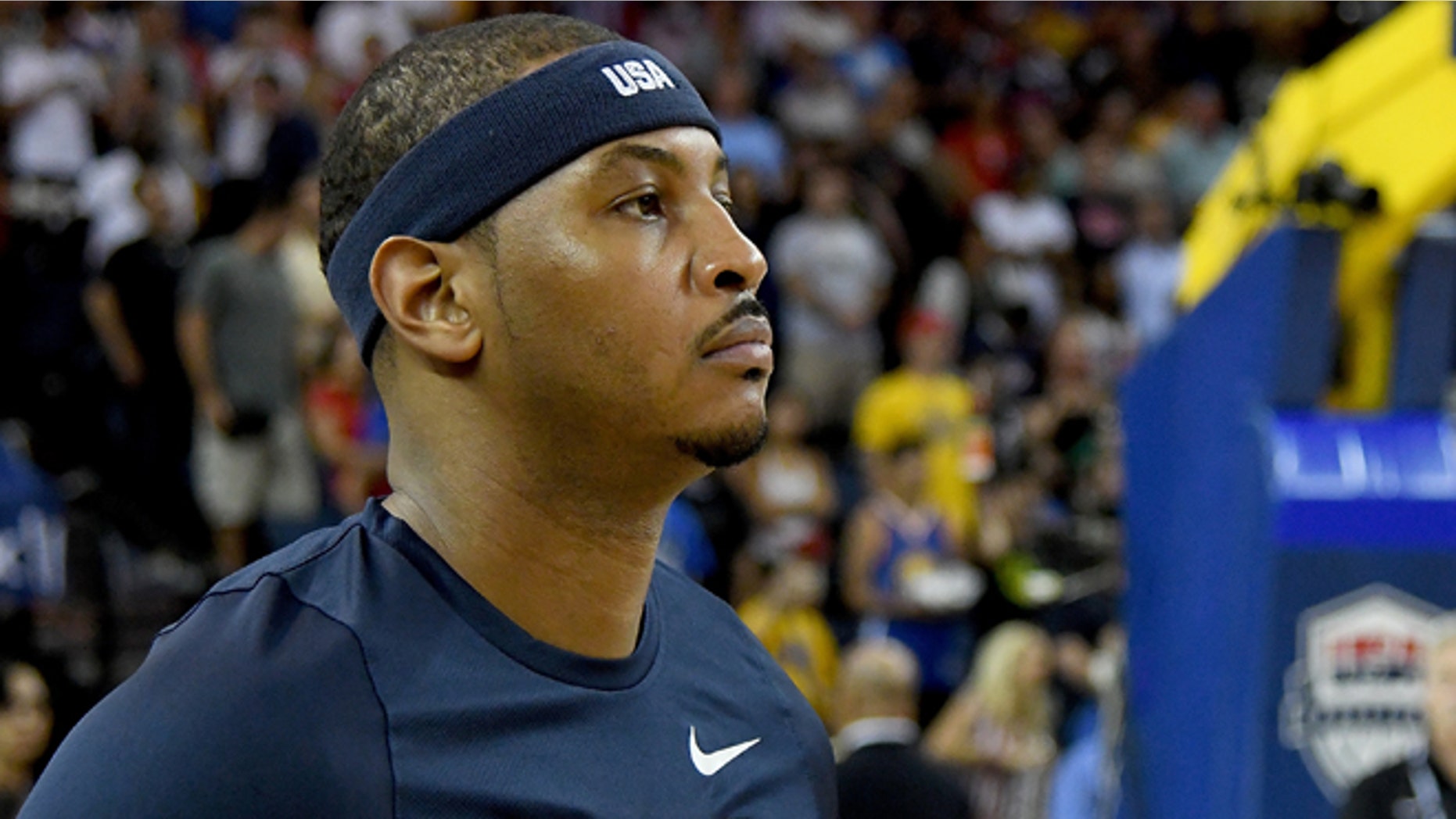 There have been Olympic U.S. men's basketball players who were more dominant, like Michael Jordan in 1992 and LeBron James in 2012, but when you factor in longevity and willingness to join Team USA, no hoops player has shined as long and as bright as Carmelo Anthony.
The New York Knicks forward has two gold (2008, 2012) and one bronze (2004) Olympic medals, and in Rio, where the team begins its quest on Saturday against China, he figures on adding to that tally.
Geno Auriemma, the coach of the U.S. women's team, at a practice before heading out to Brazil, was talking about how wonderful it was for him to have three players on his team – Diana Taurasi, Sue Bird and Tamika Catchings – who were participating in their fourth Games.
"You just don't see that on the men's side," Auriemma started and then stopped himself short. "Well, this is Carmelo's fourth. I think he's the first American man to do that."
At a Glance
Name: Carmelo Anthony
Age: 32
Discipline: Basketball
Position: Forward
Begins competition: USA vs. China, Sat. 8/6, 6 p.m. EDT
He is indeed.
In the Olympic record-book, Anthony holds single-game U.S. records for most points and most three-pointers made – 37 points and 10 treys in just 14:29 minutes of playing time against Nigeria in 2012.
He leads all U.S. men in 3-pointers made with 39, is No. 3 in games played (23), No. 4 in points scored (239) and No. 4 in rebounds (83).
And beyond the Olympics, almost anytime that he's been needed for qualifiers or FIBA world championships, Anthony has answered the call, appearing in 12 Dream Team editions, playing in 72 games for the U.S., amassing 1,100 points (15.3 per game) and 289 rebounds.
With James, Stephen Curry, James Harden and other top scorers – apart from Kevin Durant – declining to play, Melo should get a lot of playing time and the chance to set a few more records.
And it almost didn't happen.
In one of the biggest might-have-beens in Olympic history, Anthony very nearly chose to play for Puerto Rico's squad.
Growing up on the streets of Baltimore, the Brooklyn-born Carmelo Anthony never really felt Puerto Rican.
After all, his father, Carmelo Iriate, died of cancer when he was just a toddler, and the dominant, identity-giving figure in his life was his mother, Mary Anthony, who is African-American.
"My mom raised four kids by herself," Anthony shouted out to her after winning the 2003 NCAA Championship with Syracuse. "I'm the youngest. I know she's real proud of me now."
During the same interview with the New York Times, he mentioned his father's heritage and that his mother had named him Carmelo because, "It's kind of Spanish."
In fact, Anthony's discovery of Puerto Rican culture – something that would lead him, with a boost from his Nuyorican wife LaLa Vazquez, to build basketball courts on the island for charity and found an NASL soccer team in Bayamón – had already begun.
The summer of 2002, after he graduated from high school a highly-recruited player, he traveled with a friend to Ponce to watch the championship game of the Puerto Rican league. He felt enough at home there that he considered staying to play in the summer league, but he decided not to because he wasn't sure if it would affect his NCAA eligibility.
After his one year at Syracuse, the 19-year-old entered the 2003 NBA draft (along with James and Dwyane Wade), and he starred right away for the Denver Nuggets, averaging 21 points a game.
Early in 2004 ahead of the Athens Olympics, he flirted with joining the Puerto Rican basketball team – on which he pretty much was assured a starring role – rather than wait to find out if he would get an invitation from Team USA.
Anthony chose to sweat out the wait, mainly because Olympic rules prohibited him from switching allegiance at a later time.
"I would do it if I could [play for] both," he told the Denver Post.
The general manager of Puerto Rico's basketball team at the time, Salvador Villelas, had been dreaming of getting his hands on Anthony for years. "We saw him play in the (2002) McDonald's All-America game," he told the Post, "and the coaches all agreed that he has the skills. He was the missing link."
At first, Anthony may have reasonably wondered if he made a mistake.
He made the team after a number of players who had helped the U.S. qualify—Kobe Bryant, Shaquille O'Neal, Jason Kidd—dropped out before the games. But in limited time, he averaged just 2.4 points and 1.6 rebounds a game.
The only silver lining—well, bronze lining—was that, after the team finished third, most of the fingers of blame were pointed at Allen Iverson and Tim Duncan, not at the young Nuggets forward.
Puerto Rico? Well, they made it to the quarterfinals after ambushing the Americans, 92-73, during the opening round. Anthony barely got into the game against his would-be homeland, notching just one rebound and one turnover.
The what-ifs are thick. That Puerto Rico team was led by the dynamic backcourt tandem of Carlos Arroyo and Larry Ayuso – it's easy to fantasize about Team Boricua earning its first Olympic basketball medal with Anthony roaming its front court.
And the island's team hasn't qualified for an Olympics since 2004 – something that undoubtedly would not have been the case had the budding NBA All-Star chosen to play for them.
But Anthony has come through for Puerto Rico in other ways.
Through his Carmelo Anthony Foundation, he has helped build or refurbish community sports facilities on the island. And he started Puerto Rico FC, a North American Soccer League franchise in Bayamón.
Last June, when announcing the creation of the team, Anthony said at a press conference, "It is an honor for me to bring back soccer to Puerto Rico, my beloved island, birthplace of my father."