Olympic protest against Rio Tinto hits Australia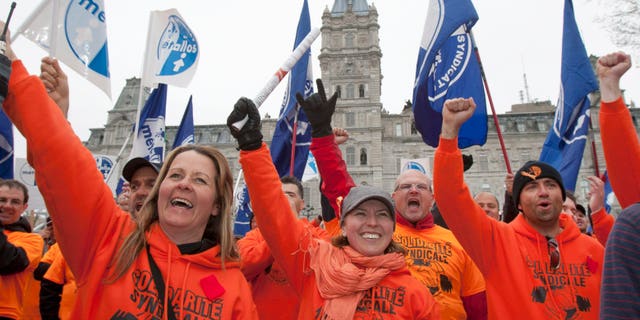 BRISBANE, Australia – A protest against London 2012 sponsor Rio Tinto, which has provided the metal for the Olympic and Paralympic medals, moved Down Under on Thursday when union members picketed the annual general meeting of the multinational mining group's Australia-based Rio Tinto Limited.
Union officials in Australia and Canada are upset with the lockout of 800 workers from Rio Tinto's smelter in Alma, Quebec, and the Canadian union representing the employees said it had lodged a complaint with organizers of the London Olympics.
In Brisbane, capital of Queensland state, dozens of union members protested outside an hotel where the AGM was being held Thursday.
Queensland Council of Unions president John Battams said the group has written to Australian Olympic Committee president John Coates asking for an emergency meeting to discuss what it sees as Rio Tinto's undermining of Olympic ideals.
AOC spokesman Mike Tancred said Coates was away on an overseas trip and that as far as he was aware, no letter had been received from the Queensland union group.
Battams said Rio Tinto was "not a good corporate citizen."
"We are particularly trying to highlight Rio's attempt to deceive the world into believing that somehow they have similar values as the Olympic movement," he said. "They need to be outed as a very bad employer, not just in Alma, Canada, but in their mining operations around the world as well."
Rio Tinto Limited chief executive Tom Albanese said in a statement that the company negotiates in good faith with all its unions.
"Over the last 16 years, Rio Tinto Alcan has resolved all its contract negotiations throughout the world without conflict," he said. "Unfortunately, in spite of our efforts, we could not avoid the conflict at the Alma plant and a lockout was the only option to protect the smelter and its future."
Albanese added: "We support London 2012's commitment to delivering the most sustainable games ever."
In April, the United Steelworkers in Canada, representing the Alma workers who have been locked out since Jan. 1, alleged ongoing labor and human rights violations and asked the International Olympic Committee and the London 2012 Organizing Committee (LOCOG) to drop Rio Tinto as its official supplier of the 4,700 gold, silver and bronze medals.
The USW said it wanted to have the medals recast.
Last October, Britain's Royal Mint in south Wales began making the medals that will be awarded during the games in July and August.
Rio Tinto supplied the ore for the medals, which was to have been mined at its Kennecott Utah Copper Mine near Salt Lake City and from the Oyu Tolgoi project in Mongolia. Salt Lake City hosted the 2002 Winter Olympics.