Ole Miss quarterback Chad Kelly involved in scuffle during high school football game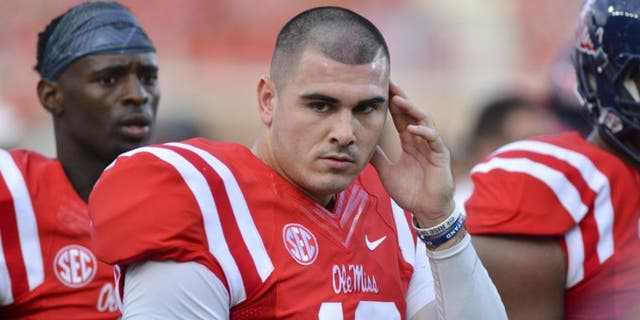 Ole Miss quarterback Chad Kelly was involved Friday night in an altercation while attending his brother's high school football game at his alma mater, St. Joseph's in Buffalo, N.Y.
Per The Buffalo News' Budd Bailey, this is how the event transpired:
Casey Kelly, the St. Joe's starting quarterback, was tackled near the sideline on the play. Suddenly there was an outbreak of pushing and shoving.
Chad Kelly, Casey's brother and the current quarterback at Mississippi, was spotted on the field during the incident. Buffalo News video and photographs showed Chad Kelly being pushed away from the area of conflict. Chad Kelly, who graduated from St. Joe's in 2012, is apparently back in Buffalo during his team's bye week.
Here is the video from the incident:
And further information:
When the brawl occurred with 6 minutes, 30 seconds left in the second quarter against Bishop Timon-St. Jude, the game was immediately suspended. Ole Miss is currently on a bye week, and their athletic department has not yet released a statement regarding tonight's events.
UPDATE: 12:06 a.m.
Ole Miss coach Hugh Freeze issued a statement on Twitter: