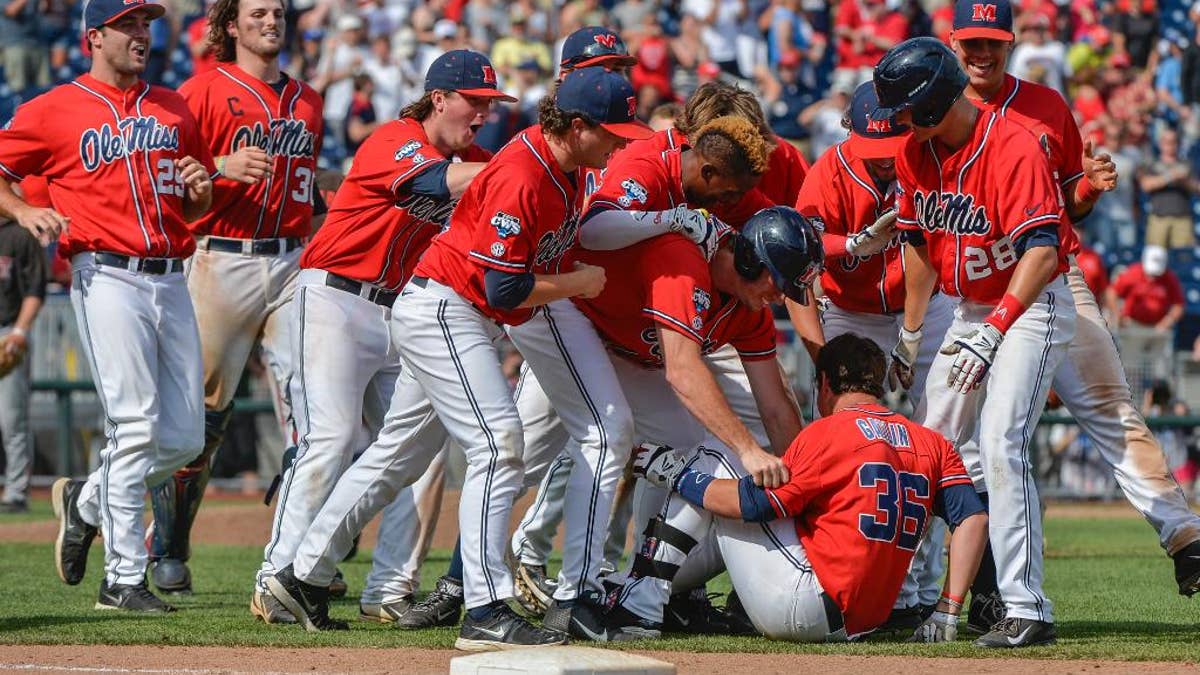 OMAHA, Neb. – John Gatlin was an unlikely hero for Mississippi on Tuesday.
The fifth-year senior missed last season with injuries, was batting .103 in just 29 at-bats and was mourning the death of his grandmother.
He was called on in the bottom of the ninth of a tie game to face Texas Tech reliever Dominic Moreno with the winning run on third base. Gatlin sent a 1-2 pitch into right field to score Aaron Greenwood in a 2-1 walk-off victory that kept the Rebels alive in the College World Series.
"One of the great things about this profession, about being a coach, is to watch young men like John Gatlin when good things happen to good people," coach Mike Bianco said.
Gatlin was a part-time designated hitter in 2012, batting .255. He missed last season with a torn labrum and a broken foot. He hadn't appeared in the NCAA tournament until Tuesday, and he stepped to the plate in the ninth as a .197 career hitter.
Bianco was running out of options when he called on Gatlin. He wanted Gatlin to face left-hander Cameron Smith but wasn't surprised when Texas Tech brought in Moreno to set up a righty-righty matchup.
"They bring the right-hander in, and we said, 'Just hit it somewhere, John,' "Bianco said.
Gatlin's grandmother died after he and his teammates had left for Omaha. She was on his mind after the game.
"I couldn't think of anything else that she could be more proud of," Gatlin said.
Hitting coach Cliff Godwin had asked Gatlin if he needed to return home.
"I said, 'Are you kidding me?' She'd kill me if I came home right now," Gatlin said. "But, yeah, game's on the line like that, so much goijng through your head, and she was definitely a part of it."
___
KEY LONGHORNS: Texas coach Augie Garrido says center fielder Mark Payton and pitcher Nathan Thornhill are the two biggest reasons the Longhorns made it back to the CWS.
Payton, drafted in the 16th round by Cleveland last year, and Thornhill, picked in the 24th by Houston, returned to Austin for their season seasons to lead a Longhorns team that had missed the NCAA tournament in 2012 and 2013.
Payton is batting a team-high .320, has a Big 12-leading .460 on-base percentage and has committed one error. Thornhill (8-3) took the loss against UC Irvine on Saturday, his first since late April, and his 1.63 ERA ranks among the best in the country.
Payton and Thornhill were on the 2011 Texas team that went 0-2 in the CWS. The Longhorns made it back after finishing last in the Big 12 a year ago.
"Mark walked over to me and said, 'Good to be back, huh?' " Garrido said at a recent practice. "I said, 'Yeah, and you put the fuel in the tank for us to get here, too.' He and Nate mean everything, and that comes from their teammates. Their teammates have referred in interviews to how unselfish those two players were to come back and help get the team to Omaha."
Thornhill said his and Payton's decisions to come back to school have been validated.
"This is where Texas belongs and we're glad to be here," he said.
___
FOULS FOR CASH: Foul balls caught by fans during the CWS' opening weekend resulted in a $10,000 donation from Allstate Insurance Co. for sports programs at Boys Town, the nationally acclaimed home for troubled youth in Omaha.
ESPN analyst Aaron Boone and Allstate, playing off its advertising slogan in the "Good Hands in the Stands" promotion, gave a ball-holder trophy to the person who caught or retrieved the first foul ball each half inning. Each of those foul balls triggered a donation.