Old Hoss previews Dodgers-Braves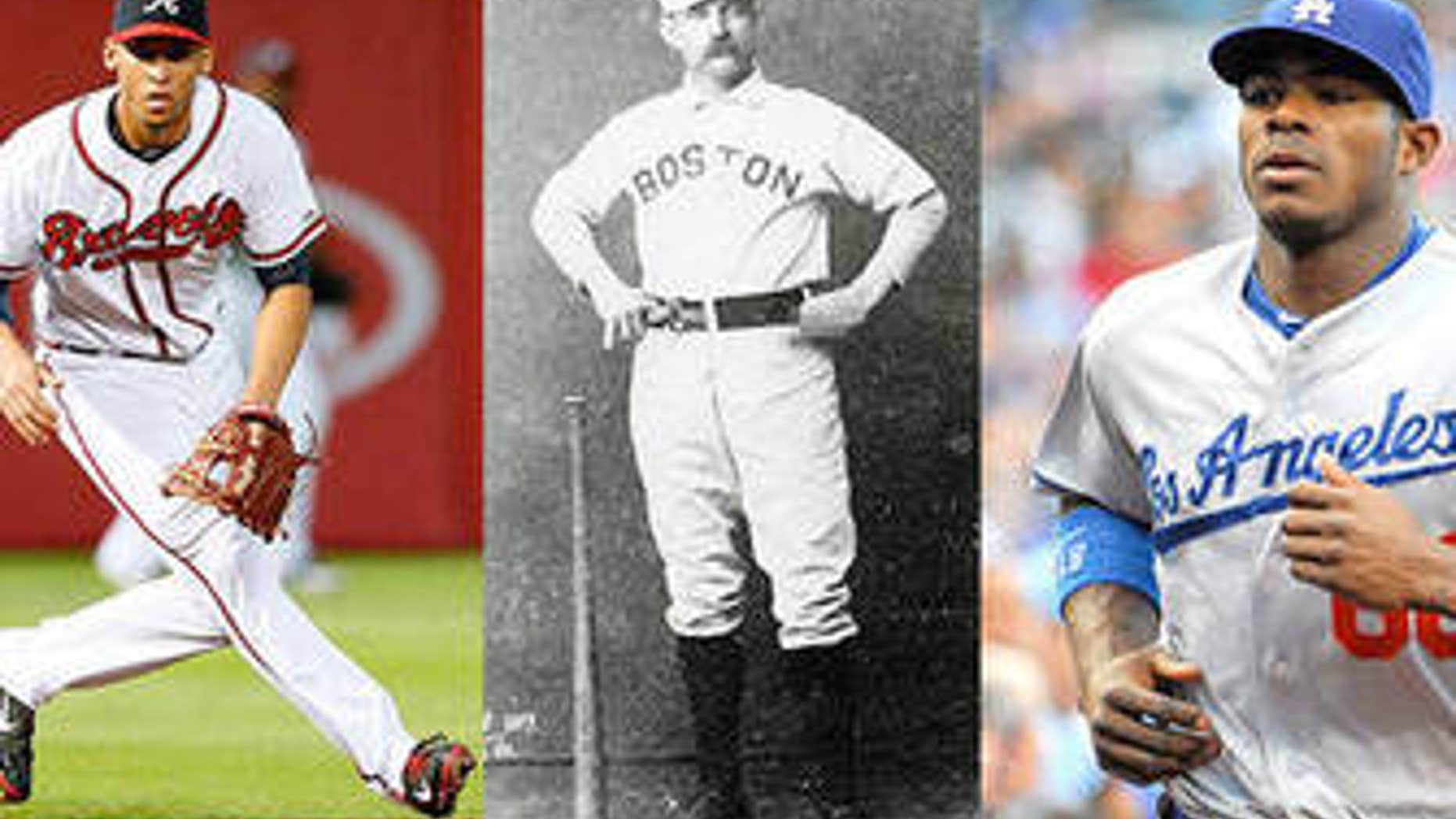 Editor's note: Old Hoss Radbourn might be the best pitcher in baseball history that you have never heard of.
And rightfully so, since he pitched in the late 1800s.
The Hall of Famer put up legendary numbers in his 11-year career, with his best season coming in 1884 when he pitched the last 27 games for the Providence Grays. He won 26 of those outings and then picked up three straight wins in the World Series.
Old Hoss, who won 59 games in 1884 alone, finished his career with an amazing 309-194 record.
Now he's putting up big numbers on Twitter where he weighs in on anything from baseball to the recent government shutdown using the vernacular of his era.
Old Hoss will be breaking down every divisional playoff series for us this October.
Here's his take on the Dodgers-Braves NLDS.
Offense:
Dodgers: Matt Kemp, when healthy, is a dominant force in center field. Bad news, Dodgers fans: he's the Dodgers' Prometheus, whose tendons and ligaments are regularly ripped from his body only to grow back just in time to be removed again. But Good Sweet Sally they also can trot out Hanley Ramirez and Yasiel Puig.
Hitter that scares me: N/A, but I must admit that a 225(+) lb. short stop from Hispaniola who smashes the ball like a demented washerwoman assaults linen would have scared the effluvium out of many men from my day. Not me, of course.
Braves: Who cares? Andrelton Simmons has made a sorcerous pact with some primordial Ba'al and we must watch his dominance at short stop until the last iota of his soul's value has run out.
Hitter that scares me: N/A
Pitching:
Dodgers: Clayton Kershaw had a historically great season, completing just three games. Yup. Three. The rest was pretty good, though, and I in my leisure like to think of the numbers I would have put up were I allowed to throw a nice, relaxing seven innings and then turn it over to the bull-pen. Having said that: he's amazingly good, and I would name him the "Cy Young" award winner except for the fact that I would not want to sully Kershaw's good name by associating him with that wretch. My favorite hurler, Zack Greinke, is no slouch as the club's #2 pitcher.
Hurler who could outpitch me: Clayton Ker . . . I'm just kidding. N/A
Braves: There is less star power here but this is a very respectable rotation. It is not playoff-tested, with a combined 6.1 innings of playoff experience, all coming from Kris Medlen's start during last season's "wild card game." At first blush this sounds much like Joshua Chamberlain trying to defend Little Round Top with a pack of Webelos. But this is merely a nice canard for those who have little else to say, for it means that first-time pitchers always lose in the playoffs. Their strength is their bullpen, led by Craig Kimbrel, who is quite good, and I say this despite being reluctant to praise men who actually choose to cash a check for tossing only 60 innings per season.
Hurler who could outpitch me: N/A
Key matchup:
Yasiel Puig versus Angry Old Gatekeepers. Make no mistake: Puig has committed a serious sin indeed. He is brash and has fun. This, to many of base ball's old guard, their chests filled with bile and minds on the ever-rosier events of years past, is an anathema. Players now dwelling in the long shadows of near-forgotten memories may have fathered children out of wedlock, kept multiple mistresses, brawled on and off the field, and taken money to decide the outcome of games. They never had fun. Base ball was embraced with a Protestant's work ethic and thrived as a joyless endeavor marked by an utter lack of emotion barring hate.
Local food and drink:
Dodgers: The streets of Los Angeles are remarkably canine-free, and one can assume this is directly related to the "food" known as "Dodger Dogs." Skip them and get a taco.
Braves: In my day men told tales of all sorts of tasty vittles acquired in Atlanta, all of which were barbecued to perfection due to the large bonfire built by the great Gen. Sherman. My understanding is that one can find repasts of almost any type, and you will not go hungry here.
Who I would want in a fight:
Dodgers: Puig. He's crazy.
Braves: the 50,000 lunatics in the stands waving inflatable and/or glowing tomahawks. Anyone who thinks this is a good thing to do likely has no sense at all and would make excellent front-line fodder for a headlong assault on an enemy redoubt.
What to wear:
Dodgers: In case you have not heard, some Dodgers fans are angry louts who actually seek to hurt people that root for men playing a game while wearing different colored laundry. As a result, full plate mail is recommended, and the USS Monitor would make an effective and safe vessel for getting to and from the stadium.
Braves: You would not be out of place wearing full Native regalia, from feathers to paint to spear. And, let's face it: a seat at a Braves game is a hell of a lot more real estate than the original inhabitants of America were afforded in the wake of Manifest Destiny marrying xenophobia. And, better yet, you can delude yourself and say that this Native gear somehow honors those who . . . bah, I can't even type it.
Trivia:
A bit of genealogical research indicates there is a 5.6% chance someone on one of these playoff rosters is of my lineage.
The final payroll of the Brooklyn Dodgers of Los Angeles of Echo Park (the official club name) was $5,140,000,070.11. The club's luxury tax burden was settled by granting Major League Baseball a deed to the La Brea tar pits and half of Beverly Hills.
Frank McCourt, a man who makes Daniel Snyder look like George Bailey by comparison, has yet to see the inside of a penitentiary.
Prediction:
This one should be a lot of fun. Will Kershaw live up to his season? Will Simmons' infernal pact end in the middle of a play? Will Kimbrel's arm fly off his body, further injuring Kemp in the process? I see the Dodgers winning in 5.
For more from Old Hoss Radbourn, be sure to follow him on Twitter . You won't be disappointed.