O'Korn leads Houston to 25-15 win over Memphis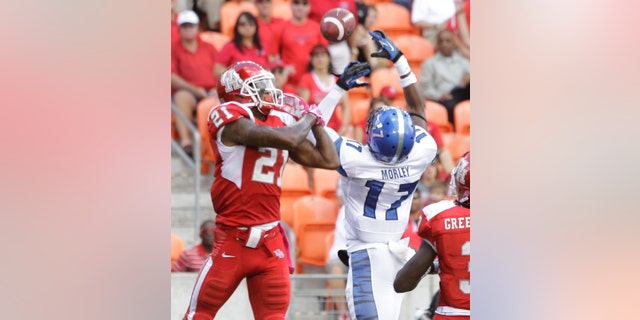 NEWYou can now listen to Fox News articles!
HOUSTON – John O'Korn threw for 198 yards and a touchdown and Kenneth Farrow ran for two second-half touchdowns as Houston overcame a slow start to defeat Memphis 25-15 Saturday and remain undefeated.
O'Korn finished 13 of 30 and Deontay Greenberry caught four passes for 76 yards for the Cougars (5-0, 2-0 American), who were out-gained 349 yards to 247.
Paxton Lynch was 21 of 41 for 222 yards passing, and Brandon Hayes rushed 12 times for 72 yards to lead the Tigers (1-4, 0-2), who committed four turnovers - all fumbles. Mose Frazier caught five passes for 81 yards.
Trailing 15-10 midway through the third, Farrow put the Cougars ahead with a 1-yard run and followed that by taking O'Korn's shovel pass in for a two-point conversion.
Farrow extended the lead to 25-15 with a 6-yard run with 10 minutes remaining.
Jake Elliot had five field goals for Memphis.