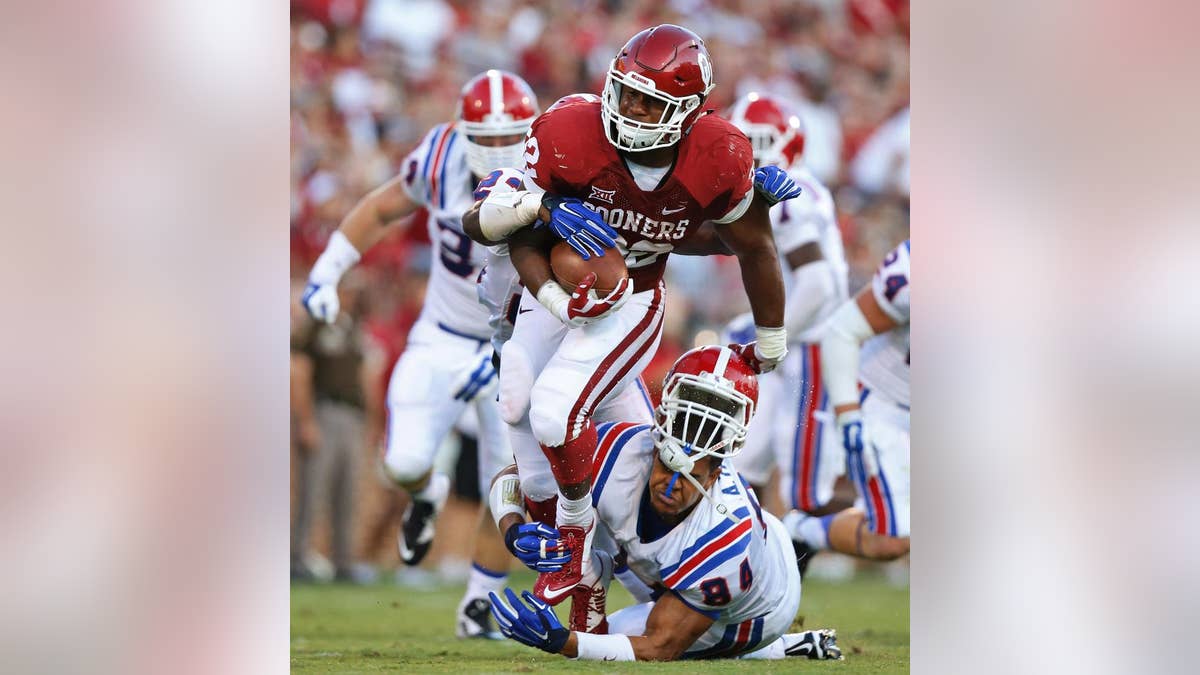 NORMAN, Okla. – In the old wishbone days at Oklahoma, Barry Switzer's teams often would have three or more backs put up big numbers.
The fourth-ranked Sooners went old school with a twist in their 48-16 win over Louisiana Tech on Saturday night.
Samaje Perine, Keith Ford and Alex Ross all had big games against the Bulldogs, but coach Bob Stoops' modern-day triple threat differs from those of yesteryear because his guys catch the ball, too. Ford caught four passes for 65 yards and ran nine times for 51 yards and two touchdowns while Ross caught two passes for 31 yards and ran 11 times for 36 yards and two scores. Perine, a 5-foot-10, 243-pound bulldozer, rumbled for 77 tough yards and a touchdown on 13 carries. That adds up to 260 yards from scrimmage.
All three had 13 touches from scrimmage on Saturday, showing that a featured back might not be necessary.
"We've got three running backs that can do some damage," quarterback Trevor Knight said. "All three of those guys ended up getting in the end zone tonight. That's just a testament to those guys working. You saw how they worked together, how Alex and Keith kind of set the tone and Samaje — it was his first college game — it showed how they've taken him under their wings, and they played great tonight."
Oklahoma lost its top two rushers from last season, and highly touted freshman Joe Mixon is suspended for the season, so there were questions heading into the opener. The Sooners answered them by producing 183 yards rushing and five touchdowns on 40 carries while keeping their backs involved in the passing game.
"We all have different skill sets," Ross said. "When we got our chance, we optimized the opportunities that we had every time we touched it."
The one thing they have in common is power.
"We feed off each other," Perine said. "We do stuff in the weight room that other people just can't do. As a running back group, I think we are one of the strongest — if not the strongest — running back groups that's ever come through Oklahoma."
Ford made perhaps the play of the game early in the third quarter. He caught a pass on a deep seam route and took a major shot from safety Kentrell Brice before holding on for a 28-yard gain.
"I honestly did not know he was right there," Ford said of Brice. "I was kind of surprised I held onto the ball. I was just grateful that I made a play. We worked on that all week and Coach (Cale) Gundy was stressing to watch out for the safety. I guess it showed why he said that."
Perine, a true freshman, plays behind Ross and Ford. He was emotional after playing so well in his college debut.
"He teared up," Ross said. "I had to hug him. I was like, 'You good, brother. I'm proud of you.' And he just laid his head on my shoulder and it was tears, had to wipe the tears. But he's good."
Perine knew he'd get a chance to run with the ball, but he wasn't sure how often. He entered the game confident that he could produce as a college player.
"I think during the couple of scrimmages that we had, I was running pretty well, and if you run well against our defense, you can pretty much run well against anybody," he said. "I just had that mentality going into this game and this season, and I think it's going to carry over well."
___
Follow Cliff Brunt on Twitter: www.twitter.com/CliffBruntAP .