Oklahoma's Joe Mixon reportedly not invited to NFL Combine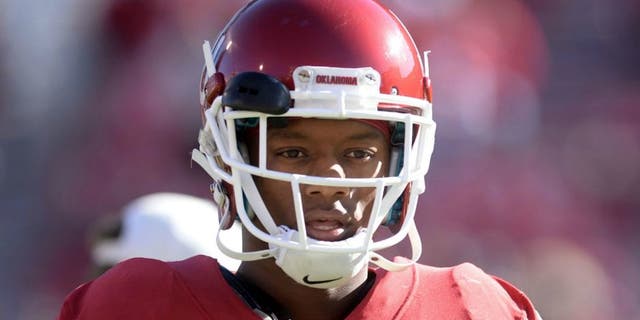 Oklahoma Sooners star Joe Mixon, under fire since a video of him punching a woman was recently released, is not on the official list of prospects invited to the NFL Combine, according to multiple reports.
NFL teams received the list this week, USA Today's Tom Pelissero reports, and Mixon's name was not on it. Neither was Baylor receiver Ishmael Zamora, who was recorded beating his dog in a video posted to social media and suspended three games last season.
Last year, the NFL announced that college players with convictions for domestic violence, sexual assault and weapons offenses would not be invited to the Combine, and it appears the league now is making its standards even stricter. NFL Network reports that Troy Vincent, the league's executive vice president of football operations, sent a memo to teams stating that players would not be invited "if a background check reveals a conviction of a felony or misdemeanor involving violence or use of a weapon, domestic violence, sexual offense and/or sexual assault."
The Mixon incident occurred in 2014, but the video -- which shows Mixon punching a young woman in the face after she confronted and struck him in a restaurant -- sparked new outrage that Oklahoma allowed him to continue his football career after he served a season-long suspension. Mixon, who broke the woman's jaw, eye socket and cheekbone, received a deferred sentence and community service and was instructed to undergo counseling.
Mixon is considered one of the top running backs in the NFL Draft, according to most draft experts. He rushed for 1,274 yards and scored 10 touchdowns last season as a sophomore, and had 91 yards and two TDs in the Sooners' Sugar Bowl win over Auburn. Zamora had 63 catches for 809 yards and eight TDs in 10 games.