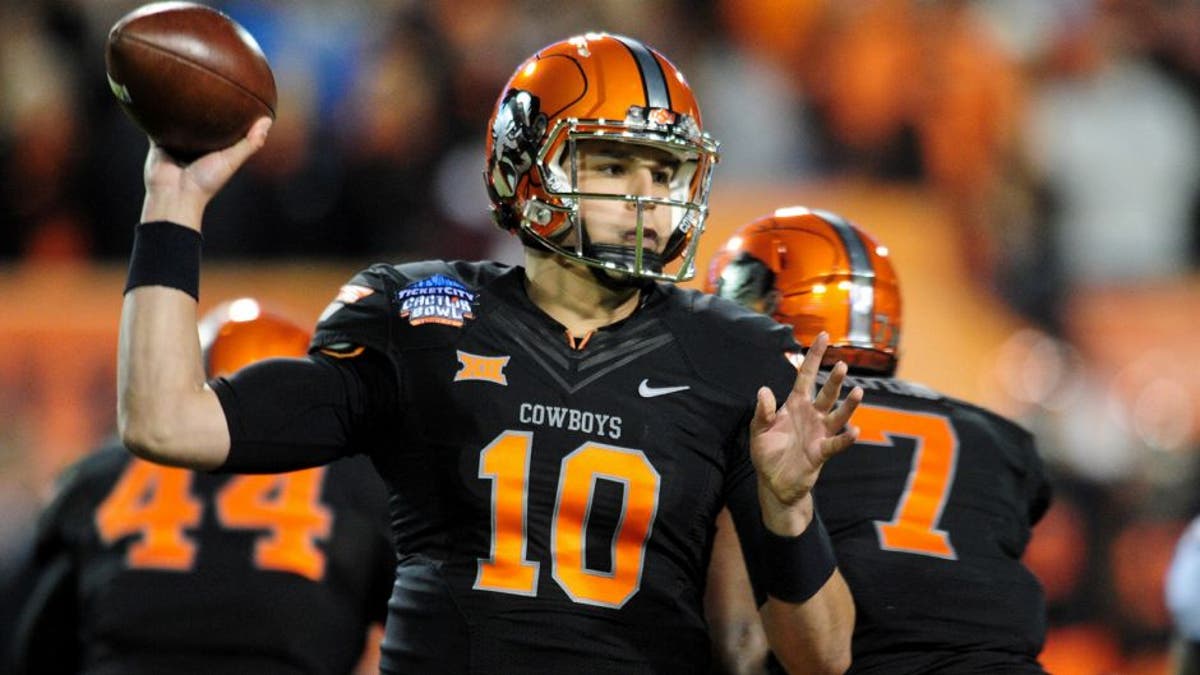 STILLWATER, Okla. (AP) -- Mason Rudolph has done things the right way since being named Oklahoma State's starting quarterback.
Rudolph closed his freshman season with three strong performances, and coach Mike Gundy named him the starter before spring practice. Rudolph's coaches said the 6-foot-4 pro-style passer has since gained respect from his teammates by demonstrating toughness and becoming a better student of the game.
Rudolph said he never changed his approach once he was told he'd earned the job.
"It's a good thing to know that I'm the guy, but that doesn't take away from how hard I'm going to work," Rudolph said.
Rudolph stepped in last season after J.W. Walsh and Daxx Garman were injured and completed 57 percent of his passes for 853 yards and six touchdowns while leading the Cowboys to wins over Oklahoma and Washington. Even though Walsh was expected to heal from his season-ending foot injury, Gundy went forward with Rudolph. Gundy said Rudolph has some of the same intangibles that made Walsh popular with his teammates.
"He has a little bit of grit to him, and toughness, that makes our team want to follow him," Gundy said. "And that's so important at the quarterback position for us."
Walsh, who has started 10 games at Oklahoma State, said Rudolph has great potential.
"The biggest thing is, he got thrown into a situation last year as a true freshman, and he was very poised," Walsh said. "He's one of those guys that's very charismatic. People kind of gravitate toward him and like him. Not to mention, he's really talented."
While Rudolph's fast start, big arm and ability to escape pressure are impressive, Gundy often reminds folks that his new signal caller is inexperienced -- Rudolph was expected to redshirt last season and didn't play until Week 11. He's quickly catching on.
"He's been good with getting the ball in the hands of the players that the defense has allowed us to take advantage of offensively," Gundy said. "I think that's the most important part of his progress in the second year. He's going to make some plays and make some mistakes, but he needs to minimize those by not trying to make too many big plays. Just take what they give him."
Though not considered fast, Rudolph's ability to handle pressure from opponents is one of his best attributes. He bulked up some in the offseason in hopes of becoming even better at extending plays.
"He's done a good job of it in the three games he's played, and he was doing that at 218 pounds," Gundy said. "He's 228 now, so he's obviously stronger and a little more experienced. What I hope for is that he continues that, because that's not something you can coach. Guys can either escape and get away or make a play or they can't, so hopefully he can continue that."
Yurcich said he'd like to see Rudolph continue to improve his coverage recognition and his ability to make progressions while making sure his communication skills allow the team to maintain its fast tempo.
Rudolph said those things have improved in the past year. He said he didn't feel comfortable last season until midway through.
"It has slowed down a little bit," he said. "I feel like I'm a whole lot better mentally from where I was last year just getting thrown in and really not settling in as I would have liked, but I feel a whole lot better."
Experience at the receiver slots should help Rudolph continue to improve. David Glidden, who led the team with 42 catches, Brandon Shepherd, tops on the team with 737 yards, and James Washington, the team leader with six touchdowns, are back. So are Marcell Ateman, Jhajuan Seales and Austin Hays.
Walsh might be Rudolph's most important returning helper.
"J.W.'s a great friend of mine," Rudolph said. "We hang out all time, not just in football. He has been a great kind of older brother, mentor figure to me, kind of bringing me along, showing me how it's done."