Oklahoma State faces Texas with bowl-eligibility streak on the line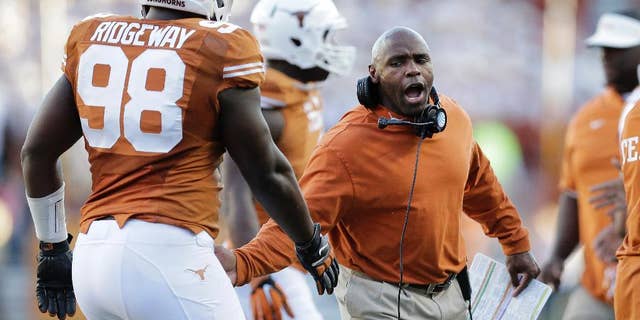 NEWYou can now listen to Fox News articles!
STILLWATER, Okla. – Oklahoma State returns to action Saturday night, hosting Big 12 rival Texas, and both teams will be looking for a win to keep up their push for bowl-game eligibility.
The Cowboys (5-4, 3-3 in Big 12), who lost three straight before their bye week, can extend their bowl-game streak to a school-record nine straight if they can win one more game.
"It's certainly a known thing, and the older guys around here, we appreciate it and know about it," said junior David Glidden, who leads the squad with 31 receptions and 419 receiving yards, on the program's recent success. "So it's something that's been brought up and it's a streak you definitely want to keep."
Meanwhile, the improved Longhorns (5-5, 4-3), winners of their last two, have played in three consecutive bowl games and 15 in the past 16 years.
Each have strong conference opponents remaining on the schedule after this week, so Saturday looks to be either school's best opportunity to secure a sixth victory — and bowl eligibility.
"We got to keep fighting," Glidden said. "You go out there every week and it's a chance to win and compete. In this league, nothing's going to come easy. You've just got to go out there and execute the game plan and you've got to love what you do. You've got to go out there and play for the man next to you and embrace the opportunity."
With No. 6 Baylor (Nov. 22) and rival Oklahoma (Dec. 6), which just dropped out of the top 25, still to come, Oklahoma State coaches and players insist they are only focusing on the next game.
Despite having a young and inexperienced team, failing to qualify for a bowl game would be a major disappointment for a Cowboys team that went 10-3 and played in the Cotton Bowl Classic last year.
"It's an awesome tradition we've started here," said junior fullback Jeremy Seaton of OSU's bowl streak. "You get an extra month of practice when other (non-bowl teams), they're sitting around at home. We get to spend more time together, we get to go somewhere else, play in a different atmosphere, and play a team that we probably would never get to play against."
Coach Mike Gundy recognizes the improvements that Texas has made in defeating Texas Tech and West Virginia, and knows they will be a formidable opponent.
"We're obviously playing a team that's completely different now, in our opinion, than they were in September," said Gundy, whose only losing season at OSU was his first in 2005. "They've improved in a lot of different areas, so it will be a real challenge for us. From an outsider looking in, their quarterback has gained some experience, they had good players — they're still big, strong and fast and could run and make plays."
As for the bye week, it's been good for the Cowboys to get some rest to heal nagging injuries, not to mention the mental fatigue that accompanies a three-game losing streak in which they've been outscored 124-33.
"It's not rosy every week and part of the mental toughness that we want and ask for is being tested right now," said defensive coordinator Glenn Spencer. "It's not easy to come back and practice for that next game when you're not having success. It takes a special young man, and it takes us as coaches and those guys as players to grind it out.
"Obviously, as a competitor, you want to get right back on the field the next Saturday, so you hate that you're not playing, but honestly, to give the guys a couple of days off, it was beneficial," he said.