Oklahoma State escapes third straight nail-biter, beats WVU in OT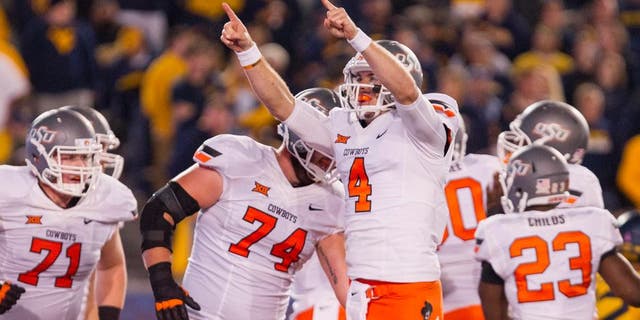 NEWYou can now listen to Fox News articles!
MORGANTOWN, W.Va. (AP) -- Backup quarterback J.W. Walsh scored on a 2-yard run in overtime and No. 21 Oklahoma State held West Virginia scoreless on its possession in the extra period to beat the Mountaineers 33-26 on Saturday night.
It marked the third straight close finish for the Cowboys (6-0, 3-0 Big 12), who won their two previous conference games on last-minute field goals.
Skyler Howard brought West Virginia from 15 points down with a 3-yard scoring run with 2:44 left to send the game into overtime tied at 26.
Oklahoma State's running game was ineffective in regulation, but five straight rushes in overtime moved the ball to the 2, and Walsh took it in from there on fourth down.
West Virginia (3-2, 0-2) advanced to the 4 on its overtime possession, but Howard threw incomplete in the end zone on fourth-and-goal from the 11 to end it.
Oklahoma State forced four turnovers and won despite being outgained 443-362.
Mason Rudolph won his eighth straight game as a starter, but wasn't sharp. He threw three interceptions and had no touchdowns one week after passing for 437 yards and three scores against Kansas State.
Rudolph needed an assist from Walsh, who was brought in whenever Oklahoma State got within scoring range.
Rudolph's 40-yard scramble set up Walsh's 4-yard scoring toss on third-and-goal to tight end Blake Jarwin to extend Oklahoma State's lead to 23-9 early in the third quarter.
Howard finished 18 of 35 for 188 yards but had his solid moments. He had a 48-yard scoring toss to Shelton Gibson in the third quarter and his 15-yard run on third down kept alive a drive that led to a field goal early in the fourth to trim the deficit to 23-19.
After Devante Averette's interception set up a short field goal for Oklahoma State, Howard rebounded by engineering a 78-yard drive for the tying score.
Howard also fumbled twice and threw an interception in his second-straight lackluster game. A week ago he threw three interceptions and fumbled twice in a loss at Oklahoma. One of those fumbles was returned for a score.
Wendell Smallwood tied a career high with 147 rushing yards for the Mountaineers.
Oklahoma State got starting running back Chris Carson and backup Rennie Childs back from injuries that kept them out of last week's game. The Cowboys were limited to 134 rushing yards. But Childs came up big in overtime with a pair of 7-yard runs and a 2-yarder that gave Oklahoma State a fresh set of downs inside the 10.
Childs finished with 34 yards and Carson had 21. Rudolph had a team-high 48 yards and completed 20 of 40 passes for 218 yards.
Oklahoma State defensive end Emmanuel Ogbah, the Big 12's leader in sacks and tackles for loss, recovered Howard's fumble in the end zone for a touchdown in the first quarter. He also forced two other fumbles. Teammate Chad Whitener recovered one fumble and forced another.