Oklahoma State erases controversial loss with customized Alamo Bowl rings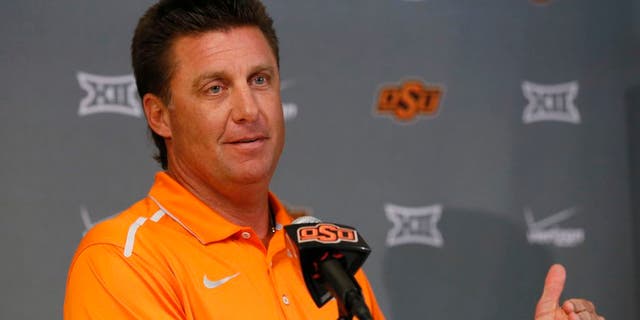 NEWYou can now listen to Fox News articles!
Few college football teams finished the 2016 season more impressively thanthe Oklahoma State Cowboys.
After beginning the season at just 2-2, they won eight of their final nine games, playedfor the Big 12 title against Oklahoma on the final day of the regular season and capped things off with a dominant 38-8 victory over Colorado in the Alamo Bowl.
A 10-3 record is nothing to scoff at, yet it's something Oklahoma State still isn't happy about. And there was more evidence of that on Wednesday when the team received its Alamo Bowl championship rings.
If you look closely at that ring, you'll see something a bit unusual: It shows a record of 11-2, instead of the 10-3 record that can be found in the history books.
But if you think that the Cowboys put the wrong record on their rings by accident,think again.
As you may remember, Oklahoma State was part of one of college football's controversial finishes last season, one that cost them a victory. The Cowboys were called for intentional grounding in the final seconds against Central Michigan, a play that forced a turnover on downs and gavethe Chippewas theball back for one final offensive play. Then, Central Michigan converted a wild Hail Mary pass for the game-winning touchdown and a 30-27 win.
Just one problem: As FOX Sports' rules expert Mike Pereira pointed out, the Chippewas never should have been given the extra play. Because the penalty was on the Oklahoma State offense and included a loss of down, by rule Central Michigan shouldn't have gotten the ball back, nor should it have gotten the additional play.
Pereiraexplained below.
Thanks to the rules gaffe by the referee, Oklahoma State coach Mike Gundy refused to acknowledge the loss for the rest of the season, something that clearly played a role in the "11-2" record being recognized on the rings.