Oilers moving forward without Penner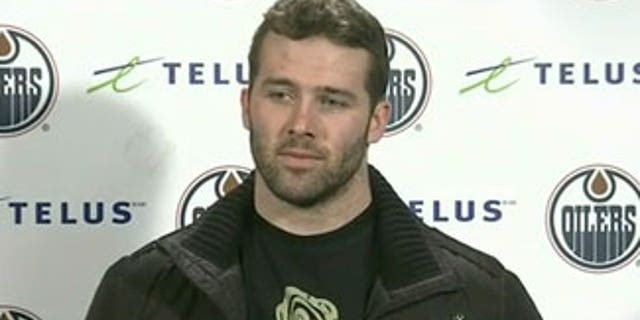 EDMONTON -- Life without Dustin Penner begins for the Edmonton Oilers against the Nashville Predators on Tuesday, and coach Tom Renney knows that's part of the business, difficult or not.
With 19 games remaining, the 30th-place Oilers have to get along without their leading goal-scorer and biggest forward in Penner, who was dealt to Los Angeles before the trade deadline Monday.
"Good to go. That's what we do," Renney said. "That's the dynamic of the game.
"Whether it's in Year 1 of a rebuild or you're in your third year and you're starting to look serious about being a contender, it doesn't matter. The bottom line is a roster is a very dynamic thing. If you get too hung up on movement here, there or anywhere, that can, as a coach, really get in your way and stifle you from doing your job.
"Our objective is to make sure these guys stay focused. We have 19 games left and we want to make sure every one of them means something, that we come away better for it. That's our objective."
While Edmonton gets prospect defenseman Colten Teubert, a first-round draft pick in 2011 and a conditional pick in 2012 from Los Angeles, that won't help the Oilers down the stretch.
"It's exciting to see the direction they're going," Ales Hemsky said of the Oilers' rebuild that's in progress. "The talent they have. One day, I don't know how long it will take, but one day it will be really, really good here. It's still not there yet. It will take time."
Call for Petiot -- Edmonton's Theo Peckham won't play Tuesday after sitting out two days of practice following being dropped by a Nathan Horton punch in the first period of a 3-2 loss to Boston on Sunday.
The Oilers have recalled Richard Petiot from Oklahoma City of the AHL and will insert him into the lineup. Petiot, 28, has played 11 NHL games with Los Angeles and Tampa Bay since turning pro in 2005-06, most recently 3 points in 11 games in 2008-09 with the Lightning. He has 12 assists in 46 AHL games this season.
Around the rink -- The Predators snapped a four-game losing streak with a 3-2 win at home against Columbus on Sunday, but they've won just two of their past seven games, four of their past 10 (4-5-1), and have slipped to No. 10 in the Western Conference standings. ... Nashville is tied for fourth in the Western Conference with 17 road wins, while the Oilers have just 10 wins at home after Sunday's loss to Boston and are 10-19-4 at Rexall Place. The Oilers have lost two straight home games and three of their last four games anywhere. ... Hemsky has 5 goals and 4 assists in his past seven games. ... Devan Dubnyk blanked the Predators 4-0 with 37 saves Feb. 7, but back-up Martin Gerber will get the start tonight.