Ohio State's growing pains have arrived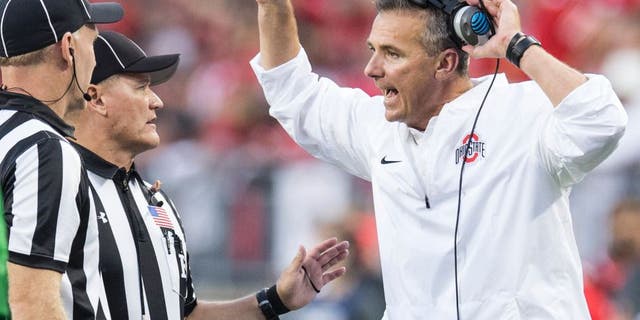 The Ohio State Buckeyes didn't become a bad team, or even a mediocre team, overnight -- they're still one of the nation's best.
But make no mistake, there is cause for concern in Columbus.
One of the reasons Ohio State fans should be concerned is the timing of the team's newfound issues.
The Buckeyes entered the season as a young squad -- Ohio State was pilfered by the NFL Draft in April, with 11 members of last year's team being selected in the top 100 picks.
You don't bounce back from a talent loss like that easily, but the Buckeyes appeared to take the hits without missing a step, starting the season 6-0 and even getting first-place votes in the AP Poll this month.
There wasn't a lot of logic to Ohio State's loss to Penn State last week -- you shouldn't lose games to a team that only completes eight forward passes in a contest, but that's college football for you.
Saturday's almost down-to-the-wire win over Northwestern should be a point of concern -- the Buckeyes appear to be going through the growing pains so many expected they'd experience at the beginning of the season.
Ohio State's performances the last two games have been relatively even -- the outcomes were the main difference. That kind of play won't fly against Nebraska next week and it certainly won't play against Michigan at the end of the season.
The Buckeyes didn't work through the inevitable problems of youth, they just found a way to delay them, and Meyer needs to find the answers to the newfound questions before Ohio State's season -- which still absolutely has playoff hopes attached -- is fully derailed.
Ohio State's biggest issue might not be one that can be immediately addressed. The team's wide receivers are having a difficult time separating from coverage, and that leaves J.T. Barrett without many options downfield. They have mitigated that problem by using Curtis Samuel (a sneaky Heisman bet, if you're into that sort of thing) as an all-around offensive weapon so far this season -- it was obvious that was the goal Saturday -- but even that is losing effectiveness as opponents have more tape to study.
The Buckeyes defense is performing adequately and Barrett doesn't deserve to take the brunt of the blame -- but separation isn't an issue that can necessarily be corrected in practice.
Ohio State's offense has lost its verve, and it's going to take some ingenuity to find it again.