Ohio State ups ante in band war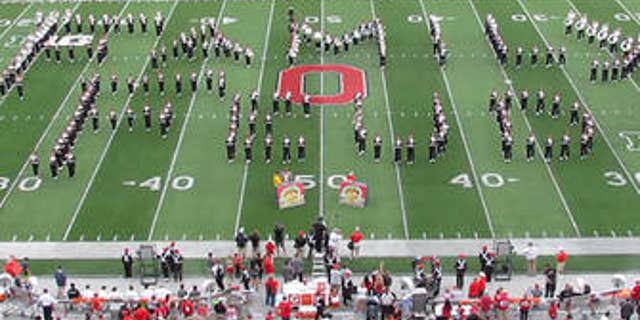 Marching bands are already a competitive bunch. Throw in a historic rivalry on the field, and things have the potential to get nasty.
Case in point, the Ohio State band, which fancies itself "The Best Damn Band In The Land," getting revenge against Michigan's band in Week 2 after Michigan apparently slighted TBDBITL in Week 1.
Here's the deal: During halftime of Michigan's season opener against Central Michigan, the Michigan band appeared to mock Ohio State's band by forming the words "OH NO," an apparent jab at Ohio State's "OHIO" formation.
Here's a picture of the formation, via Big Ten Network :
On Saturday, during halftime of the football team's win over San Diego State, Ohio State fired back with a show titled "Are You Smarter Than A Wolverine?"
The show starts with a Price is Right-style skit in which a Michigan T-shirt is declared "worthless" after a Michigan "fan" bids $800.
Then during a Family Feud skit, the Ohio State band turned a Michigan 'M' into an Ohio State 'O' before the host reminded fans that Ohio State is the winningest football program in the last 100 years.
In the Wheel of Fortune skit, the Michigan family from Family Feud makes an incorrect guess on a puzzle formed by the band before the Ohio State family guessed "Go Bucks" correctly.
And then in the Jeopardy! skit, the Ohio State family selects "College Marching Bands for $1,000" before providing the correct answer to "The University that has the Best Damn Band in the Land."
The host then closed the show with a nod to Bob Barker by requesting that fans help control the pet population by "having their wolverines spayed or neutered."
The Ohio State band is said to have learned the entire performance, choreography and all, in four days . It's definitely worth your time to watch, and while I don't normally consider myself qualified to comment on the merits of marching band performances, I'm inclined to say OSU emptied its spit valve on Michigan in this battle of smack-talking rivals.