Ohio State holds off cellar-dwelling Rutgers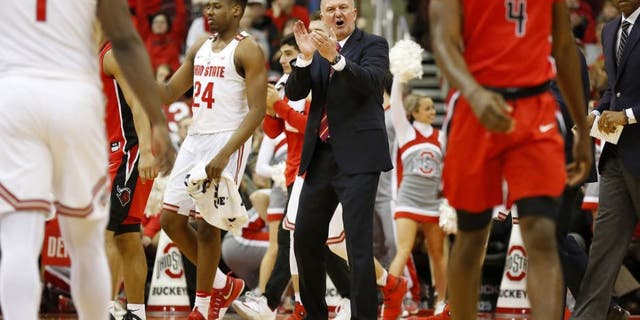 COLUMBUS, Ohio (AP) -- With the score tied against Rutgers with just over a minute to go on Wednesday night, Ohio State's Kam Williams grabbed a pass from Jae'Sean Tate in front of his team's bench and knocked down a 3-pointer, sprawling to the floor from the force of the effort.
Williams' shot -- and a subsequent free throw -- put the Buckeyes ahead 66-62 and stole the momentum back from the Scarlet Knights, who had battled back from a 12-point deficit.
A tip-in by Deshawn Freeman with 29 seconds left closed the gap to 66-64, but Rutgers ran out of time and had to start fouling, leading to a 70-64 victory by Ohio State.
"A big four-point play down the stretch kind of put the nail in our coffin," Rutgers coach Steve Pikiell said.
Williams tied a career high with 23 points. Trevor Thompson added 15 points and 13 rebounds as the Buckeyes (15-10, 5-7 Big Ten) won their second straight game but afterward lamented their mistake-prone play that allowed Rutgers to be in contention right up until the end. Ohio State was out-rebounded 26-17 in the second half and in the game had 15 turnovers -- five of them by guard C.J. Jackson -- that led to 19 Rutgers points.
"Later down the stretch (we) kind of made some plays that weren't us and were really unacceptable," a dejected Thompson said. "So we just have to get better from this, because we didn't play good at all."
Corey Sanders led Rutgers (13-12, 2-10) with 17 points but fouled out with just under five minutes left in the game. Freeman added 10 points and 10 rebounds.
The Scarlet Knights shot just 39.7 percent (25-63).
Ohio State started out on the right track against a team they were expected to beat. With the game tied at 10 with 13:23 left in the first half, the Buckeyes went on a 10-2 run, led by as many as 11 and held a 33-27 advantage at halftime. Tate had 11 points in the first 20 minutes, missing just one shot, but he wouldn't score again, missing a pair of foul shots with 37 seconds left in the game.
"We had some plays on the offensive end that were not sharp, that were not dialed in," Ohio State coach Thad Matta said. "We did such a good job rebounding the ball in the first half and then in the second half it was like we had cement shoes on. We just couldn't move to go get the basketball."
BIG PICTURE:
Rutgers: The Big Ten cellar-dwellers lost again after getting only their second conference win of the season last weekend. Rutgers has just five total Big Ten wins since joining the conference in 2014-15. Still, Pikiell said he saw positives.
"I think we're learning how to win," he said. "We weren't in games last year, now we're in every game."
Ohio State: The Buckeyes got an ugly win, which they'll gladly take in a disappointing up-and-down season. They're still holding onto hope they can get back to the NCAA Tournament after missing the cut last season.
"We've got to continue to compete because the season is not over with," Thompson said. "We still have a chance. We can still string games along and keep the momentum going."
UP NEXT:
Rutgers: Returns home for a game against Minnesota Saturday.
Ohio State: Plays at No. 21 Maryland on Saturday afternoon.