Ohio State coaches see Miller growing into new position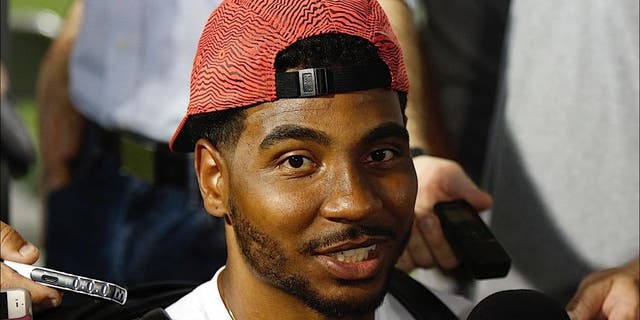 Braxton Miller might be ready to be a receiver just in time for Ohio State.
Buckeye coaches Urban Meyer and offensive coordinator Ed Warinner both had positive things to say about the quarterback-turned-receiver Monday at the first pregame press conference of the 2015 season.
Asked who has caught his eye recently in practice, Warinner replied, "Former Big Ten Player of the Year is doing well out there. We like him."
That, of course, is Miller, who won the Chicago Tribune Silver Football in 2012 and in 2013 while playing quarterback for the Buckeyes. After missing last season because of shoulder surgery, he spent preseason camp learning to play a new position as his arm continues to heal.
Warinner's praise came shortly after Meyer said the senior had been outstanding in the most recent two practices as his body continues to adjust to life as a receiver, which is much more physically strenuous than practicing at quarterback.
"I knew there would be growing pains," Meyer said. "It's rather comical when I heard, 'Just play him at receiver, or, 'Go put him at corner.' It usually takes a year-and-a-half to play receiver to do it correctly."
Whatever time Ohio State had to wait for Miller to grow into his new role may have shrank over the past month as three veteran receivers were suspended for the season opener against Virginia Tech and one of the youngsters pegged for a larger role, sophomore Noah Brown, was lost for the season to a broken leg.
Although Miller is listed on the Ohio State depth chart at quarterback and H-back, Warinner clarified he is playing multiple receiver positions.
"He's all over the place," Warinner said. "He's just an athlete out there. No, Braxton has looked good and is growing into that position and had a great attitude about learning it."
Meanwhile, Meyer might not be willing to tip off the Hokies about whether or not the starting quarterback will be J.T. Barrett or Cardale Jones, but the head coach -- maybe intentionally, maybe not -- did mention something that Virginia Tech defensive coordinator Bud Foster might have to spend some extra time preparing for.
"Now the one thing Braxton can do, you snap him the ball and he's done that enough to go and there is potential of that as well," Meyer said. "As of the last three days, he's, I don't want to say exceeded my expectation, but he's darn near ready to go."