Ohio Olympic gold medal track star sued by parents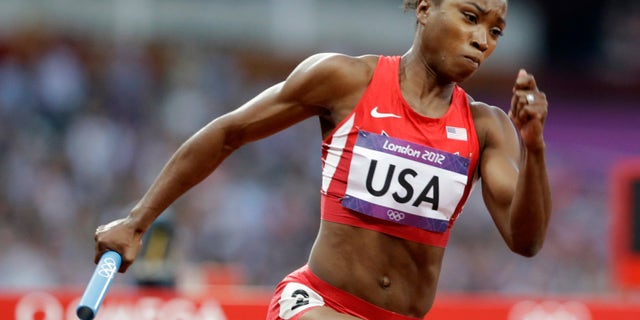 NEWYou can now listen to Fox News articles!
CLEVELAND – The Ohio parents of Olympic gold medalist Tianna Madison have sued her, saying she spread stories they had been selfish and bullying and cheated her financially.
Elyria residents Robert and Jo Ann Madison filed the libel, slander and defamation lawsuit Thursday in Cuyahoga (ky-uh-HOH'-guh) County Common Pleas Court in Cleveland. They say they've been loving, supportive and generous parents.
The lawsuit, which also names her husband, John Bartoletta, reportedly says Madison and Bartoletta have repeatedly made false statements since March to the media. The complaint alleges that Madison falsely said her parents mismanaged her finances and knowingly allowed a boy who had molested her in the past to enter their home.
Tianna Madison was on the winning 4x100-meter relay track team at the Summer Olympics in London. She won the gold with Allyson Felix, Bianca Knight and Carmelita Jeter in world record time.
The Tampa, Fla., couple have an unpublished phone number and couldn't be reached for comment Friday. The lawsuit doesn't mention an attorney representing them.
The parents' lawsuit seeks more than $25,000 each in compensatory and punitive damages.
Madison did not return to her hometown of Elyria following her record-setting performance in London. Elyria had held a rally for her before the start of the Olympics, but she did not attend, Cleveland.com reports. The website reports that the runner is estranged from her family.
She has also allegedly accused her family of allowing
Madison is reportedly focused on training for a tryout with the U.S. bobsled team next month.
"It was totally John's idea and I'm somewhat of a daredevil," Madison told Cleveland.com. "We're all-in. We're going to become students of the sport, and we're going to try to shock the world."
The Associated Press contributed to this report.