O'Hara: I expect a more aggressive Giants offense in 2015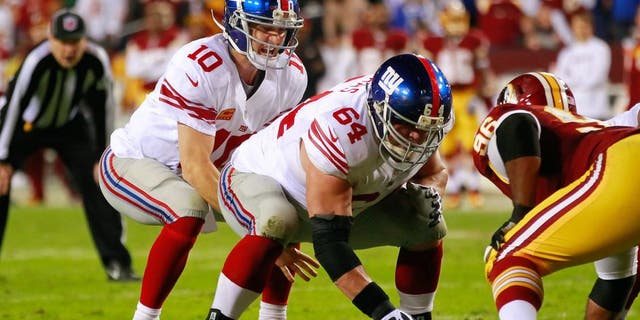 NEWYou can now listen to Fox News articles!
In the first season under offensive coordinator Ben McAdoo, the New York Giants' offense attacked the field in a fast and methodical fashion. Eli Manning got rid of the ball in 2.49 seconds, the sixth-fastest of any quarterback, but he also finished with just 7.3 yards-per-attempt--right around the league average.
In his first season calling the plays, McAdoo's offense eliminated the long developing option routes and introduced quick-breaking routes designed to get the ball out of Manning's hand fast. According to Pro Football Focus, Manning targeted the intermediate range on 27.5 percent of his passes in 2014.
After a full season in McAdoo's offense, former Giants center turned NFL analyst Shaun O'Hara believes that we will see a more aggressive Manning in 2015.
"He's (Manning) going to be more confident because he just knows this offense now," Ohara said to Justin Terranova of the New York Post. "It's going to be second nature for him, which will allow him to focus more on the defenses. I think we will see a much more aggressive style from Eli and with the play-calling."
Late in the season, Manning admitted that it took him some time to get McAdoo's offense down. He even said that he never fully felt comfortable within the offense until about the final month of the season. I guess it's no coincidence that over the final four games of the 2014 season, Manning racked up 1,330 passing yards and an 8:2 touchdown to interception ratio.
Throughout spring practices, Manning showed improved arm strength after retooling his offseason workout regimen. This could allow him to really open up the offense and get more aggressive.
Over the final two games in 2014, he found Rueben Randle for gains of 49, 43, 36, 31, 25 and 24 yards. Leading up to that final stretch, Randle was used more as a possession receiver on in-breaking routes.
The Giants' offense has a lot of upside in year two under McAdoo, but the first and most important thing that needs to be established is the protection. With a rookie at left tackle and a career journeyman at right tackle, things could get tricky along the line. Stay tuned during training camp.
(h/t New York Post)