Oh, the Coliseum: Angels' Victorino dislodges fence in loss to A's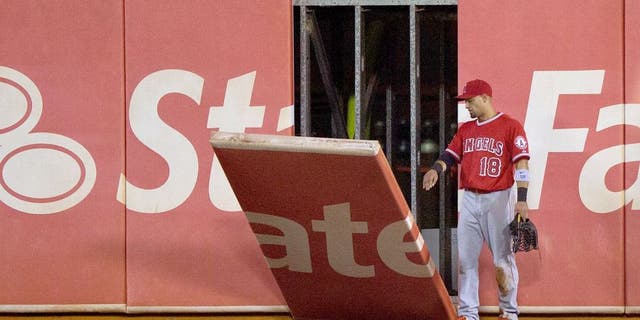 Have you ever seen an MLB game get delayed due to a 'fence delay'? If not, Monday night's series opener between the Oakland Athletics and Los Angeles Angels had you covered. The game came a day after O.co Coliseum hosted an Oakland Raiders preseason game. As typically happens in that scenario, the outfield grass was still imprinted with chalk lines from the football game.
Something odd happened, however - something that doesn't even happen as part of the usual oddities that go along with the multi-purpose facility these days.
In the fifth inning with the A's up 5-3, Angels outfielder Shane Victorino attempted to reel in a drive off the bat of Danny Valencia. He didn't catch it, as the ball fell for a two-base hit - but Victorino did manage to dislodge part of the left field wall in his pursuit:
What happened next could only be considered a 'classic Coliseum moment', given the stadium's infamous bouts with faulty plumbing and other maladies: there was a lengthy delay on the field as the grounds crew attempted to put the fence back together.
Eventually, order was restored, but it was an altogether wacky moment that could probably only have happened in Oakland.