Offensive tackle Donald Stephenson could have hard time working way back into Chiefs lineup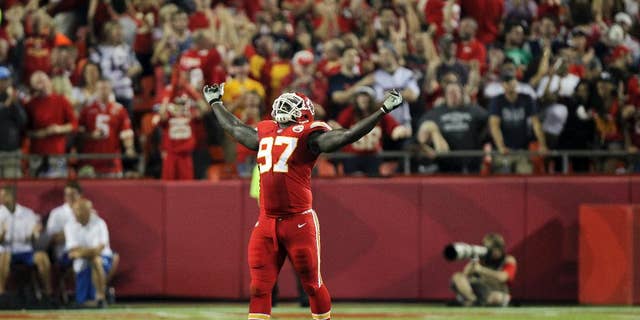 KANSAS CITY, Mo. – Right tackle Donald Stephenson is back with the Kansas City Chiefs.
He's just not back in the starting lineup.
Stephenson returned from a four-game suspension for violating the NFL's policy on performance-enhancing drugs Wednesday, but Chiefs coach Andy Reid said Ryan Harris remains the starter on the right side and that Stephenson would have to work his way back into the mix.
"He's just going to get himself back in the swing of things," Reid said. "He'll rotate back in there in practice. He hasn't done any football for a month, so we'll let him get acclimated."
Stephenson was suspended in late August, and said at the time that he took a medication that requires a therapeutic-use exemption and failed to properly investigate it.
He was able to practice with the Chiefs throughout training camp, but Reid held him out of one of the preseason games so that he could get a better look at players he had available.
Stephenson said that he stayed in shape during his monthlong hiatus, during which he was barred from the team facility, by working out twice a day in Dallas. When asked whether he would be able to play Sunday in San Francisco, the third-year pro replied with a shrug.
"I feel like I'm in shape. I worked my butt off for the past month. Whenever they're ready, I'm ready to go," he said. "The only way to get in football shape is to play football. The only thing I could do was work out and stay in shape."
It's hardly surprising that Reid was hesitant to shake things up. After losing left guard Jeff Allen to a season-ending injury in the opener, and Stephenson to his suspension, the Chiefs' rejiggered offensive line has finally started to play well the past couple of weeks.
The Chiefs ran for 174 yards in a 35-14 pasting of Miami two weeks ago, and piled up 207 yards rushing in Monday night's 41-14 rout of New England. In that game, quarterback Alex Smith enjoyed a nice pocket most of the night, throwing for 248 yards and three touchdowns.
"It's been a little battle with the personnel and we've had some injuries and things change," Smith said, "but the guys up front have been doing a good job moving around."
Eric Fisher is starting to look comfortable back at left tackle, the position the former No. 1 overall pick played in college. Mike McGlynn has hardly looked like a journeyman at left guard, and Zach Fulton has barely resembled a rookie sixth-round pick at right guard. Rodney Hudson has been a reliable center, and Harris has filled in admirably in Stephenson's absence.
"We had some injuries in the beginning, some spots to fill and had to go through that. It's kind of hard to click when you're moving guys around the line constantly," Fisher said. "The last few weeks, we've been able to stick together and that's always going to help an offensive line."
Good for the offensive line. Maybe not so good for Stephenson's chances of starting soon.
Regardless, Reid said he welcomed the big right tackle's return. He pointed out the attrition rate of offensive linemen is high, and that you can never have too much depth.
"You need everybody," Reid said. "You need all the players as you go, and you want to make sure they're all ready to play and ready to go."
NOTES: WR Donnie Avery, who sustained a groin strain in Monday night's game, missed practice on Wednesday. S Eric Berry also remained out with a high ankle sprain that has caused him to miss the last two weeks. ... Reid gave a shoutout to the Kansas City Royals, who beat the Oakland A's in a dramatic 12-inning AL wild-card game Tuesday night. The Royals play the Angels on Thursday in Los Angeles in the first game of their best-of-five AL Divisional Series.