Odom talks Kimye, Kobe, Lakers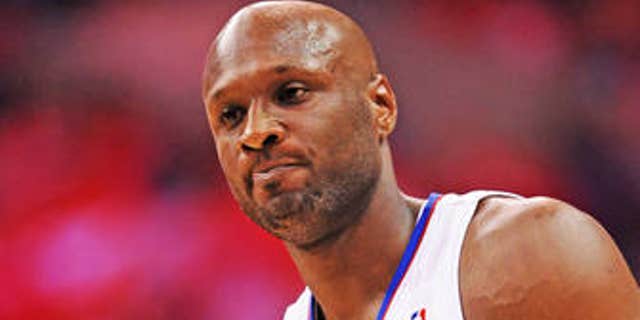 Lamar Odom says he was invited to Kanye West's exclusive proposal to Kim Kardashian, for which the hip-hop star rented out San Francisco's AT&T Park , but turned it down because he "had something to do."
Odom, in a bizarre on-camera interview with TMZ this week , rejected the suggestion that he wasn't invited and said "You see me wearing my wedding ring, don't you?"
Asked why he wouldn't go, he replied "Maybe I had to do something personal."
That may have included sticking to his reported regimen of sobriety and preparing for the NBA season.
"I can play a basketball game and probably play really well right now," he said.
Odom was non-committal when asked about wife Khloe Kardashian, former teammate Kobe Bryant ("Kobe's my friend") and the reports that he met with the Lakers about a comeback .
"I wouldn't tell you if they were really serious, I wouldn't tell you if they weren't," he said.
It gets a bit bizarre when Odom takes out his phone and begins recording his own interview with the TMZ cameraman. See for yourself:
Unfortunately your browser does not support IFrames.
Odom, 33, had his best years with the Lakers, winning two NBA championships and the 2011 Sixth Man of the Year Award in seven seasons before being traded to Dallas, beginning his professional -- and, perhaps, personal -- decline.
Consider the Odom news this summer:
Went bonkers with paparazzi
Reports of drug abuse
A DUI arrest Reports of a trip to rehab Ripped his dad for blaming the Kardashians for his problems
The rumored breakup of his marriage, which just recently was fodder for an episode of "Keeping Up With the Kardashians," with Khloe Kardashian calling her husband "a very depressed person" and saying that "nothing's really working." "He is taking steps to get himself back on track," a source told E! News. "He wants his old life back, although he realizes that might not include Khloe."
Odom, who played for the Clippers last season, pleaded not guilty to a misdemeanor count of driving under the influence in connection with his arrest in August. A pretrial hearing was set for Nov. 8.
Odom remains free on $15,000 bail. He could face six months in jail and a $1,000 fine if convicted.
The Associated Press contributed to this report.
The original article can be found at FOXSports.com: Odom talks Kimye, Kobe, Lakers.