Odd spot for Samsonov, Allen in team debuts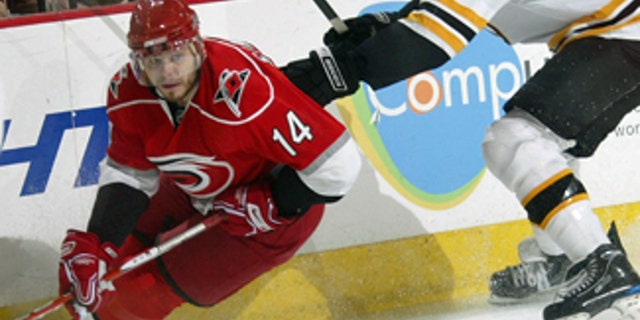 For a player, getting traded at any point can be an emotional experience. However, few know the emotions Bryan Allen and Sergei Samsonov will deal with Tuesday.
Surely Samsonov and Allen expected that they'd be playing Tuesday when the Florida Panthers played at the Carolina Hurricanes.
They just probably assumed they'd be wearing different uniforms.
In one of the strange quirks of the 2011 NHL trade deadline, Allen and Samsonov -- who were traded for one another Monday -- will face not just each other, but also their old teams when they make their respective debuts with their new teams Tuesday.
Starting the next phase of his career competing directly against the team he suited up for as recently as Sunday is sure to be an unusual experience, but to hear Allen tell it, the thought of chasing a championship after four springs of early tee times with the Panthers will trump the initial anxiety.
"I'm excited to be here," Allen told the Hurricanes' website. "I know (Carolina GM) Jim Rutherford came in today, and his speech was about pushing for the playoffs and believing we can make a good run for the Stanley Cup this year, so it's nice to be part of that right now."
Samsonov isn't the only Panther making his debut for the team Tuesday -- Niclas Bergfors will play his first game for Florida after arriving from Atlanta -- but won't have the same advantage as Allen in that he'll have a familiar face in the locker room. Days before Allen and Samsonov swapped ZIP codes, Florida had sent Cory Stillman to Carolina, where he won a Stanley Cup in 2006.
Stillman already has played two games with his old team, but after 165 games with Florida, Tuesday is sure to be a surreal experience so soon after his departure.
"That's always an emotional game, that's for sure," Stillman told the Hurricanes' website. "On one side it's nice to get it over with quickly, and for me it's two games. For Bryan Allen it's his first game against his old team, but once you get the first one over you can settle down and play and after that it's a hockey game.
"You're trying to get in and get used to it as quickly as you can."
A number of other players will play their first game for their new teams Tuesday, including Brad Boyes with the Buffalo Sabres against the New York Rangers (7 p.m. ET, VERSUS, TSN2). Buffalo coach Lindy Ruff said might feature Boyes on a line with Tim Connolly, with whom Boyes played for a year in junior hockey.
Radek Dvorak and Rob Schremp will be on the ice for the first time with Atlanta, while Fredrik Modin and Brett Carson are going to make their Flames debuts. Scottie Upshall and Sami Lepisto will dress as Blue Jackets for the first time while Maxim Lapierre will play his first game in a Canucks sweater on the other end of the ice.
The team with the most new faces in the locker room Tuesday should be the Washington Capitals, who had a busy weekend that saw them claim Marco Sturm off waivers and make deals for Dennis Wideman and Jason Arnott. Sturm is expected to play with Alex Ovechkin and Nicklas Backstrom, while Washington wants Arnott to anchor its second line.
Wideman admitted after Tuesday's morning skate that, "it'll probably be a little strange," but Arnott feels as though he has a handle on making a midseason transition.
"It takes a little bit of time, no question, no matter how long you've played in the League," Arnott told the Caps' website. "It's a little easier if you've been around a little while. Just to get to know guys, you're not as shy to talk to guys and just try and fit in. Usually every team makes you feel welcome and they've done so, so far this morning."
In addition to Tuesday's debuts, David Steckel (New Jersey), Chris Campoli (Chicago) and Brad Winchester (Anaheim) all could play their first games in new jerseys Wednesday, while Dustin Penner, arguably the biggest prize dealt at the deadline, should make his first appearance with the Kings on Thursday.
For all the players who changed locales, that first game in a new sweater likely will feature an anxious feeling-out period, but for Samsonov and Allen, the situation is particularly unique. Like any player traded at the deadline, however, both will have to find a way to move past the potential distractions and play their game.
In the NHL, that's just part of the business this time of year.
"I think it makes it a little bit more difficult, to be honest with you," Carolina coach Paul Maurice told the team's website. "You want us to come out and be physical, and it's a little harder to hate the guys you were just battling with, but they're professionals and they'll get over it.
"The other guy in their lineup will be doing the same thing."