Ochoa Disappoints, Chicharito Shut Down, and Izaguirre Breaks Ankle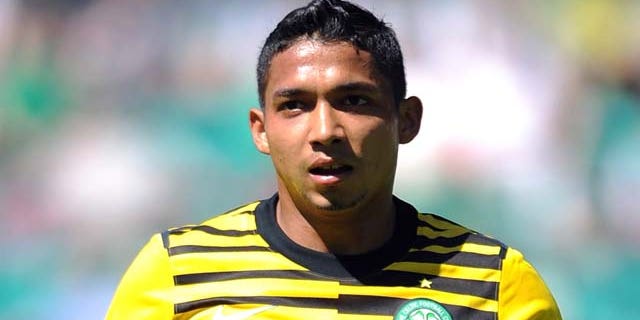 A weekly recap of how Latino internationals fared over the weekend.
Emilio Izaguirre
Celtic FC suffered a serious blow on Sunday when it discovered that Honduran international defender Emilio Izaguirre will be sidelined from four to six months after suffering a fractured right ankle.
Izaguirre was taken off the field on a stretcher in Celtic's 1-0 win over Aberdeen at Pittodrie in its Scottish Premier League opener. Celtic prevailed, 1-0, on a goal by Anthony Stokes.
The 25-year-old Izaguirre was tackled on what observers believed was a fair but strong sliding challenge by midfielder Peter Pawlett. Izaguirre was replaced by Charlie Mulgrew in the 16th minute.
"It's a huge blow for us to lose him," Celtic manager Neil Lennon told BBCRadio Scotland. "You can always tell by a player's reaction, and Emilio is not a player to feign injury. So the concern was immediate and he was taken into the dressing-room and looked at and the word came out it was a fracture."
Izaguirre will undergo surgery this week.
The popular Honduran has been plagued by injuries recently; he missed the CONCACAF Gold Cup with a left leg strain.
A member of Celtic's Scottish Cup winning side last season, Izaguirre won several individual honors in his debut season in the league, including the Professional Footballers Association Scotland player of the year award and the Clydesdale Bank player of the year award.
Javier Hernández
Don't expect to see Chicharito anytime soon. Manchester United manager Sir Alex Ferguson has ordered his star striker not to play for the rest of the month. Hernández suffered a concussion when he headed the ball during practice prior to the MLS all-star game in Harrison, N.J., last month.
He was hospitalized for a night. Since the injury, Hernández has suffered from migraine headaches and dizziness in Mexico, it was later learned. Ferguson said there was no serious problem.
Until Chicharito returns, Ferguson has decided to keep seven forwards.
"You might get an injury down the road," he was quoted by the Daily Mail. "At the moment I've no intention of changing.'
United reportedly will speed up their contract negotiations with Hernández to secure him to a long-term contract because several other top European teams, including Real Madrid and Inter are interested in signing the scoring star. ManU will offer Chicharito a $98,000-a-week contract, the Daily Star reported.
Ochoa's debut for French Ligue 1 side AC Ajaccio turned out to be a disappointing one as he allowed a goal in each half in a 2-0 season-opening loss at home to Toulouse FC. Antonine Devaux scored in the 45th minute and Paulo Machado gave the visitors some breathing room in the 73rd minute. Ochoa made one save.
Ajaccio plays at Olympique Lyonnais on Saturday.
Ochoa was one of the five players suspended by the Mexican Football Federation for testing positive for the banned substance clenbuterol during the CONCACAF Gold Cup. He and his teammates were cleared of the doping charges.
On the Move
Ochoa wasn't the only Mexican international who was on the move during the off-season. Defenders Efraín Juárez moved from Celtic to Real Zaragoza (Spain), Héctor Moreno from Alkmaar Zaanstreek (the Netherlands) to Espanyol (Spain) and Francisco Javier Rodríguez from PSV Eindhoven (Netherlands) to VfB Stuttgart (Germany).
Barrera came on as an 82nd-minute substitute in West Ham United's season-opening 1-0 home loss to Cardiff City on the bench in the English Championship on Sunday. Barrera replaced Freddie Sears.
Omar Bravo
For the second time this Major League Soccer season, former Mexican international striker Omar Bravo was red-carded from a Sporting Kansas City game. Due to his ejection, the hosts were forced to play the remaining 31 minutes a man down and wound up losing a 1-0 lead en route to a crushing 2-1 defeat to the Seattle Sounders FC.
The loss snapped Kansas City's (7-7-9, 30 points) club-record unbeaten streak at 14 games.
Bravo, KC's captain in the game, objected to several calls before he was was given his marching orders by referee Jair Maruffo for a hard, two-footed tackle on Sounders forward Pat Noonan just outside of Kansas City's penalty area in the 59th minute.
"From my perspective, it was a hopeless red card," KC goalkeeper Jimmy Nielsen was quoted by the Kansas City Star.
After the foul Bravo tried to apologize to Noonan, who writhed on the Livestrong Sporting Park pitch while his teammates protested Marrufo's decision. Bravo tried to lend him a hand to get up. Noonan quickly got up and wound up in the Mexican's face. Bravo then faked that he had been head-butted.
Rafa Márquez
Even with the Mexican international captain and central defender back in the lineup, the Red Bulls still can't defend properly, as they extended their winless streak to five games (0-3-2) after their 3-0 defeat at Real Salt Lake.
It was so bad that that at halftime Red Bulls' Hans Backe replaced midfielder Dax McCarty with defender Stephen Keel, who took Márquez's place at central defense. Rafa moved up to midfield, where he played last season.
Backe told the MSG network that he made the switch "just to get a better rhythm at midfield, get Rafa in the middle of of the park.
"He is a physical, strong guy, good distributor and match them up, the same way they lay," he added. "Then you can say there are no excuses when we play the same way. "
Where Márquez will be for the Red Bulls' next game against the Chicago Fire at Red Bull Arena on Saturday is anyone's guess.
Pavel Pardo
The former Mexican international midfielder scored in his MLS debut for the Fire to help it tie the Philadelphia Union, 1-1, at Toyota Park.
"It was fantastic to see the first game what he did tonight [and] not just that he scored the goal," Fire interim coach Frank Klopas told the Chicago Tribune. "Even if he didn't, it was (his) leadership qualities on the field, how good he was with the ball."
After Veljko Paunovic had lifted the Union into the lead in the 34th minute Pardo equalized in the 54th minute. Patrick Nyarko ran to the edge of the penalty area before centering a low pass to Dominic Oduro, which was pushed away by defender Carlos Valdes. The ball fell to an onrushing Pardo, who fired a shot to the back post past goalkeeper Faryd Mondragon.
"My goal was not important because we tied and we have to win," Pardo told the Chicago Sun-Times. "We had so many chances in the second half and didn't finish. We have to keep working hard."


Mexican national coach José Manuel de la Torres called in a strong roster for Wednesday's international friendly with the U.S. in Philadelphia. The roster includes many players who stood out during El Tri's CONCACAf Gold Cup triumph, including defender Márquez, Giovani dos Santos, Andrés Guardado and Pablo Barrera, among others.
Goalkeepers (2): Guillermo Ochoa (Ajaccio), Alfredo Talavera (Toluca)
Defenders (7): Paul Aguilar (Club America), Juárez (Celtic), Márquez (New York Red Bulls), Moreno (Espanyol), Jorge Torres Nilo (Tigres UANL), Rodriguez (Stuttgart), Carlos Salcido (Fulham)
Midfielders (7): Javier Aquino (Cruz Azul), Israel Castro (Pumas UNAM), Giovani dos Santos (Tottenham Hotspur), Guardado (Deportivo La Coruña), Antonio Naelson Sinha (Toluca), Gerardo Torrado (Cruz Azul), Jesús Zavala (Monterrey)
Forwards (4): Omar Arellano (Chivas de Guadalajara), Barrera (West Ham United), Christian Bermúdez (Atlante), Oribe Peralta (Santos)
Michael Lewis, who has covered international soccer for three decades, is a frequent contributor to Fox News Latino. He can be reached at SoccerWriter516@aol.com.
Follow us on twitter.com/foxnewslatino
Like us at facebook.com/foxnewslatino