O'Byrne knows he was lucky on skate to face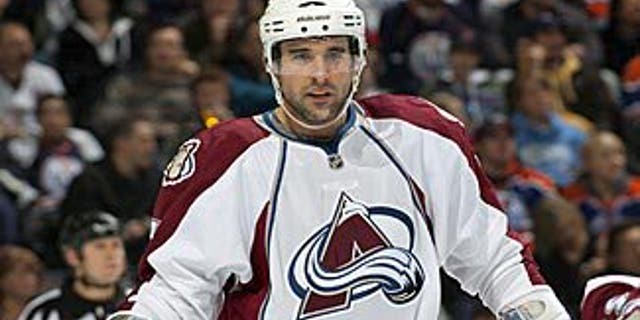 CENTENNIAL, Colo. -- Ryan O'Byrne realizes how fortunate he is, even after needing three hours of surgery and about 100 stitches to repair the left side of his face and mouth after getting sliced with a razor-sharp skate.
If the Colorado Avalanche defenseman had been struck a few inches higher or lower, the injury could have been far worse.
"Absolutely," O'Byrne said Monday after practicing while wearing a full protective cage at the South Suburban Family Sports Center. "They said there's a nerve there, and (the skate) just missed it. It kind of cut right through, but the nerve was intact. It would have been pretty tough. I would have had kind of a droopy look. It could have hit me in the eye or in the neck. A hundred stitches still, but it could have been worse, for sure."
O'Byrne is expected to return to the lineup Tuesday in Minnesota (8 p.m. ET, VERSUS, TSN2), his first game since suffering the gruesome injury in a Feb. 23 game against Edmonton when he accidentally was cut by Oilers forward Taylor Hall's skate.
"I feel good -- really good," O'Byrne said. "I guess the positive of this injury is that it doesn't really restrict you from working out and keeping in shape. I couldn't really do anything for a week or so, but after that I got back on the ice and was working out again. I feel good, ready to go."
O'Byrne was behind the Avalanche net with teammate Matt Duchene when he was injured.
"I guess Hall tried to jump over Duchene's stick and he kind of caught his stick and his heels came up," O'Byrne said. "It happened so fast. I watched the replay and there's not much you can do. It happens pretty quickly."
Yet O'Byrne remained on the ice for about another 45 seconds until the Avalanche managed to clear the puck from the zone.
"It's just one of those things where you don't know how bad it is," O'Byrne said. "I kind of put my hand to my face and I knew it was bleeding, and I went back to the slot. I knew it was pretty bad, but I didn't know how bad it was. I didn't really feel much pain, so I figured I might as well finish my shift.
"It wasn't that big of a deal. I couldn't feel it that much and the adrenaline is going. It wasn't until I heard my (defense) partner (John-Michael Liles) yelling at me that I needed to get off the ice. When I came to the bench, all the coaches and all the players were staring at me with their jaws dropped. It was kind of like, 'Maybe it's pretty bad.'"
The fact that O'Byrne stayed on the ice as blood flowed from his face was just another testament to the toughness hockey players have displayed over the years.
"To have Ryan stay out there and complete his shift for another 45 seconds was pretty impressive considering his cheek was split in half," Avalanche coach Joe Sacco said. "It's just kind of the makeup of the players in the game. It's been carried on for a long, long time."
O'Byrne said Avalanche trainers wrapped his face with a towel -- "like a mummy" -- to stop the bleeding before he was put in an ambulance for a ride to the hospital.
"That's when it started throbbing," he said. "Then I got to the hospital and they helped with the pain situation with medication. I had to sit around for a bit and I was on the operating table at (midnight). It was three hours of surgery, so it was a long night."
O'Byrne needed 70 stitches inside his cheek and mouth and an additional 30 stitches on the outside. The outer stitches were removed 10 days ago, and the inner stitches were taken out Monday morning before practice.
"The doctor said it's looking good," O'Byrne said. "There will be a little bit of a scar, but everything considered it's not too bad. I've covered it with a beard, got the 5 o'clock shadow going for a bit."
O'Byrne was limited to a soft diet for several days, and he was advised to refrain from talking.
"(The doctor) said don't move your mouth for at least the first three or four days to allow the healing process to take place," O'Byrne said. "The first four or five days weren't too much fun. I've gotten to the point in the last couple of days where I can pretty much eat fully now."
As difficult as it was to watch, O'Byrne forced himself to take a look at replays of the incident.
"Yeah, I had to," he said. "I wanted to see exactly what happened because it happened so quickly. I took a picture at the hospital, too. I was lying down and I wanted to see how bad it was. I was pretty startled. It's a tough sport, a dangerous sport -- pucks, sticks, skates; it's not easy. You see guys who have played for 20 years and their faces are pretty cut up. This is just another one for the collection."
O'Byrne said he likely will wear the protective cage for the remainder of the season. It's similar to the one he wore when he played at Cornell.
Sacco is eager to get the 6-foot-5, 234-pounder back in the lineup.
"Certainly his injury has healed nicely," he said. "It looks a lot better than I thought it would. It could have been a lot worse. We're fortunate that it was in an area where it happened. If it had been a couple inches lower, it could have been a lot more dangerous.
"He looked good (Monday) in practice and he'll be available for us (Tuesday). Certainly it's good to see Ryan back. It's good to see him back with the guys again. We can obviously use him. He's a big body back there and he covers up a lot of area in the defensive zone and he's hard to play against."