NYCFC, Red Bulls exchange Twitter shade ahead of Rivalry Week clash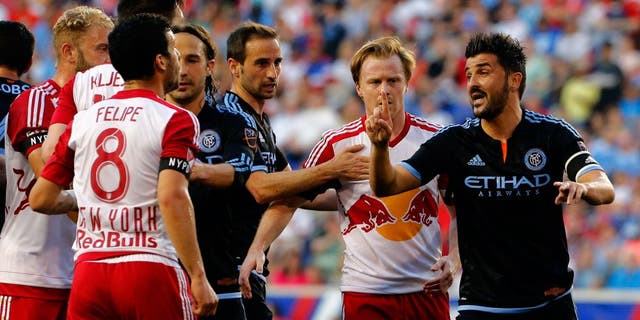 NEWYou can now listen to Fox News articles!
The rivalry between NYCFC and the New York Red Bulls is in its infancy, but it's already got the banter of a full-fledged hate vortex. With the fourth edition of the Hudson River Derby set to kick off this Saturday (noon ET, on FOX), the two clubs stepped up their smack talk with a solid Twitter beef on Thursday.
It started with a pretty innocuous "NYisRED" image and hashtag from the Red Bulls. NYCFC then apparently bought the rights to the "NY is Red" domain, and had www.nyisred.com direct visitors to NYCFC's site. A few more chirps back and forth, and a full-on Twitter Beef™ was born.
When it appeared the dust had settled, NYCFC dropped this tweet encouraging any turncoats to come swap allegiances for free.
Now that is some quality banter. This is how you know MLS has made it, when chatter like this makes an appearance. Of course, the most savage of all the repartee came via one sad fan upset that the Frank Lampard hype train never really left the station.
Ouch.
MORE FROM FOX SOCCER: