NYC Marathon still on despite terror attack; some related events postponed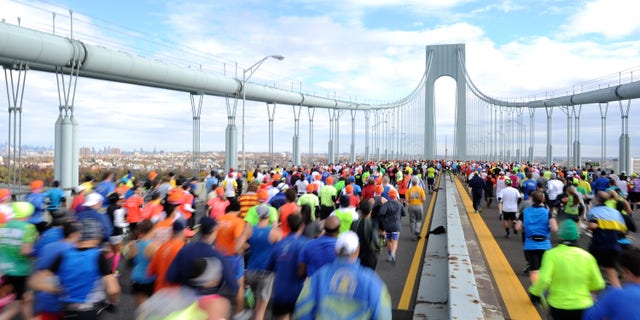 New York City Marathon officials said Tuesday they were postponing some media events Wednesday in the wake of a terror attack in Lower Manhattan that left at least eight people dead, but had no plans to alter Sunday's race.
"With respect to the victims, their families, and our city agency partners, we will be postponing our ceremonial Blue Line Painting and Faces of the Marathon media events originally scheduled for Wednesday,'' the New York Road Runners, the group that hosts the event, said in a statement.
The New York Road Runners said in an earlier statement that it would consider enhancing security for the event, but was confident it had enough security measures in place for participants to run safely.
Runners who planned to participate in the race said the terror attack was not going to deter them from something for which they have trained all year.
Harbert Okuti, a Ugandan runner, told USA Today that he hoped the marathon woukd help takes people's minds off the terror attack.
"It's so sad to see something like this happen in New York City, but we live in an open society and people are capable of anything," he said. "But we have to be strong and not let them prevent us from who we are as human beings."
George Gerbacia, from Yonkers, N.Y., told the newspaper said he had a lot of confidence in law enforcement to stop anything from happening.
"They're trained for this. They know what they're doing. It's the old cliche, what are we going to do, stop our lives? It's a horrible situation, and I feel for the innocent people slaughtered today. As far as Sunday is concerned, we'll be there," Gerbacia said.
Some 50,000 runners are expected to enter Sunday's race, according to ESPN. The event starts on Staten Island and winds through Manhattan from the Queensboro Bridge, miles from Tuesday's attack.
The New York City Marathon began in 1970. The event was canceled in 2012 in the aftermath of Superstorm Sandy, which displaced many residents of the region and left others without electricity or water for days.