Nuggets reportedly offer Dwyane Wade a two-year deal worth more than $50 million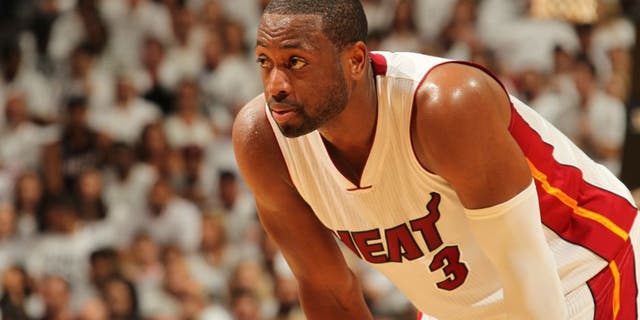 NEWYou can now listen to Fox News articles!
Could Dwyane Wade really be on his way out of Miami? The Denver Nuggets offered the All-Star guard a two-year deal worth more than $50 million, ESPN reported Tuesday.
According to ESPN, the Heat are more than $10 million shy of Denver's offer, but it's still considered a long shot for Wade to leave the Heat, whom he's played for his entire 13-year career.
The Nuggets are scheduled to meet with Wade on Wednesday in New York, and the Bulls, who have pursued the Chicago native, might also decide to do the same, The Vertical reported.
The Heat reportedly have offered Wade a two-year, $40 million deal. Wade reportedly has canceled some of the free-agent meetings he had set up with other teams, but it still appears the relationship between him and the team has been strained.
The Heat already agreed to terms with center Hassan Whiteside on a four-year, $98 million contract last week. The franchise also was one of six teams to meet with Kevin Durant, who eventually agreed to a four-year deal with the Warriors.
While Miami has had its attention elsewhere, Wade has begun to grow impatient. His representatives reportedly countered the Heat's two-year, $40 million offer, asking for $50 million instead.
The Nuggets aren't the only team that has expressed interest in the 34-year-old star. The Cavaliers also are rumored to have interest in Wade, but the defending champions have only the mid-level exception of $3.4 million to offer.
This isn't the first time the Heat and Wade have had contentious contract talks. The two sides had some tense moments last summer before they agreed on a one-year, $20 million deal.
Wade averaged 19.0 points, 4.6 assists and 4.1 rebounds last season while playing in 74 games, his most since 2010-11 due to knee issues the previous four years.