Nuggets beat a Heat team missing James, 130-102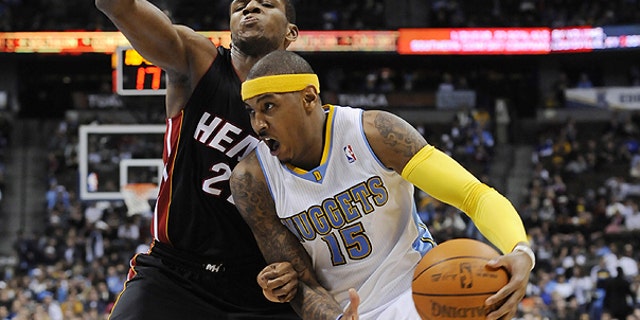 DENVER – The Denver Nuggets are beginning to tear it up on the court just when they may be torn apart away from it.
With trade talks heating up lately, the end of Carmelo Anthony's time in Denver could very well be close at hand.
Reserve J.R. Smith scored 28 points and Anthony added 21, leading the Nuggets to a 130-102 win over a Miami Heat team missing LeBron James on Thursday night.
The Nuggets have now routed two straight opponent, beating Phoenix by 34 points two nights ago.
This is what the Nuggets could be like down the road, possibly even a threat come playoff time. That is, if Anthony doesn't get dealt and the team blown up.
"I'm definitely not happy about the situation," Smith said. "But what Melo has done for this city and for this team, this organization, has been so big, I think it's his time. Whatever he wants to do, I think it's his time."
Chris Bosh scored 24 points and Dwyane Wade added 16 for Miami, which lost two in a row for the first time since dropping three straight in late November.
However, the Nuggets know that to many around the nation this win will come with an asterisk.
After all, James sat out after spraining his left ankle the night before in a loss to the Los Angeles Clippers.
And with one part of their Big Three missing from the court, the Heat simply weren't the same squad. Along with James went leadership and a 25.4-point scoring average.
"Now everybody is going to look at it and say, 'LeBron didn't play,'" Smith said. "As a competitor, you always want to play against the best players available."
The Nuggets led by 32 points in the third quarter and cruised from there. Both teams pulled their starters for the fourth quarter. It's the most points the Heat have allowed this season.
Not having James definitely threw off the team's rhythm. Heat coach Erik Spoelstra said before the game that James was "feeling a little better." He will likely try to play Saturday in Chicago.
"We had to adjust to him not playing and we haven't had a lot of time to do that," Wade explained. "We will move on and hopefully have him for our next game. If not, we will have more experience and know how to play without him."
Smith did most of his scoring from long range, hitting eight 3-pointers against a Miami team playing a lot of zone defense.
"When he's in that zone, it's pretty impressive stuff," Nuggets coach George Karl said.
Anthony has drawn frequent boos from the Pepsi Center crowd as trade rumors continue to swirl, especially since Denver native Chauncey Billups' name has been dragged into the ordeal.
But Anthony heard far more cheers than jeers against the Heat, hitting 8 of 17 shots from the field. His loudest ovation of the night came after a steal in the third quarter, followed by a dunk at the other end.
"Tonight, we came out played a hell of a game defensively, offensively," Anthony said. "We just want to keep it up."
Last summer, James dominated the news with "The Decision," leaving everyone wondering where he would take his game before announcing he would join fellow superstars Wade and Bosh in South Beach.
And now the winter has been dominated by Anthony's own version of the drama.
Anthony's future has been the subject of intense speculation ever since he spurned the Nuggets' three-year, $65 million contract extension over the summer. He also put his Denver mansion on the market.
The most recent talks have Billups and former Detroit teammate Richard Hamilton reuniting in New Jersey along with Anthony in a blockbuster deal that involves three teams and more than a dozen players.
But the likely stipulation of any team willing to trade for Anthony would be that he signs the extension, so he doesn't bolt next summer and become the headliner of the 2011 class.
Anthony has given no indication if he would agree to sign it and go to the Nets should a deal be consummated.
Bosh can sympathize with Anthony and the difficulty of staying focused in the midst of all the rumors and reports.
"You can't escape. People are asking you every minute of every day," Bosh said. "Mentally, whether you know it or not, it's going to take a toll. You might just be playing bad and you don't know why. You could be aware of it, you may not."
Anthony is definitely aware, to the point where the court has become his sanctuary.
"Coming here, it's therapeutic," Anthony said. "I try to stay strong for myself and I have to do what's best for me. Keeping a positive attitude for my teammates, and when they see that, when they see me come on the court, in the gym early, shooting after practice, laughing and joking, it wears off on them, too."
Notes: The Heat haven't won a game in Denver since Jan. 29, 2002. ... Despite the loss, Miami is 30-11 at the midpoint of the season, tying their best start in franchise history.