Nowitzki turns attention to getting Mavs back in playoffs after finding All-Star form again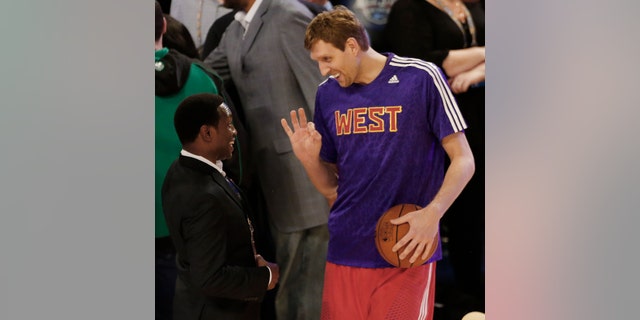 DALLAS – Dirk Nowitzki got back to the All-Star game. Now he has to get the Dallas Mavericks back to the playoffs.
The 7-foot German has much more help than he did last season, when his 11-year run in the midseason showcase ended along with Dallas' streak of 12 straight postseason appearances.
The 35-year-old Nowitzki also has been healthy all season, probably the biggest difference as the Mavericks come back from the All-Star break against Miami on Tuesday night.
Dallas hasn't won a playoff game since beating the Heat for the championship in 2011. Miami has won the past two titles.
"The thing about the West is there's no team that anybody is afraid of," Mavericks owner Mark Cuban said. "I mean, people are afraid of (Oklahoma City's) Kevin Durant obviously. After that there's good teams, but every team has got flaws, us included."
Five things to consider as Dallas leads a four-team race for the final three playoff spots in the Western Conference, with the Mavericks (32-22) at 10 games over .500 for the first time since their title season.
SAME OLD DIRK: The 2007 MVP missed the first 27 games last season after knee surgery just before the season. He needed another month to round into form, and it just didn't come together fast enough for Dallas to avoid the lottery for the first time since Nowitzki's second season in 1999-2000. But now he has the lift back in his one-footed step-back jumper, which means his scoring average and shooting percentages look like they did when the Mavericks won the title. "They're one and the same," said Devin Harris, who's back in Dallas this season after starting his career with Nowitzki. "He just moves a little bit slower, that's it. Everything else is pretty much the same."
UPGRADE AT GUARD: Monta Ellis and Jose Calderon are the next biggest reasons the Mavericks are in better shape than a year ago. Dallas signed both to multiyear deals after missing out on Dwight Howard in free agency. Ellis provides Nowitzki his best pick-and-roll partner since Steve Nash. Calderon is among the leaders in 3-point percentage after topping that list last season, and his next 3 will tie his career high of 130 from a year ago. He's also protecting the ball better than one-year experiments O.J. Mayo and Darren Collison did last season. "Jose has developed a good feel for how he fits in with our group," coach Rick Carlisle said. "The thing I've been pleased with is that he's not hesitant to shoot."
DEFENSE FIRST: One of the first things Carlisle mentioned in the preseason was defense because the Mavericks was mediocre last season. They couldn't expect much better this season because Ellis and Calderon aren't known for defense, and they had to start the season without Harris, perhaps their second-best defender behind Shawn Marion. The results have been uneven. "I'm steadfast in my belief that we're going to work to get better at it, but we're not where we need to be," Carlisle said.
MARION'S THROWBACK ROLE: Marion has already his most 3-pointers since 2008, a year before he was traded to Dallas and became a secondary offensive option with the job of shutting down the best players on opposing teams. Another revamped roster led to Carlisle asking Marion to get the 3-pointer back in his game. He has his best 3-point percentage in 11 years and his first 30-point game since coming to Dallas.
RETURN OF HARRIS: A top five pick acquired by Dallas in a draft day trade 10 years ago, Harris signed with the Mavericks as a free agent in the offseason after leaving in the trade that brought Jason Kidd back. He missed 2½ months after offseason toe surgery, and his return gives Dallas depth at guard. Harris has turned rookie Shane Larkin from a necessity to a luxury after the son of Hall of Fame shortstop Barry Larkin essentially ended up as the club's highest draft pick since Harris when he went at No. 18.