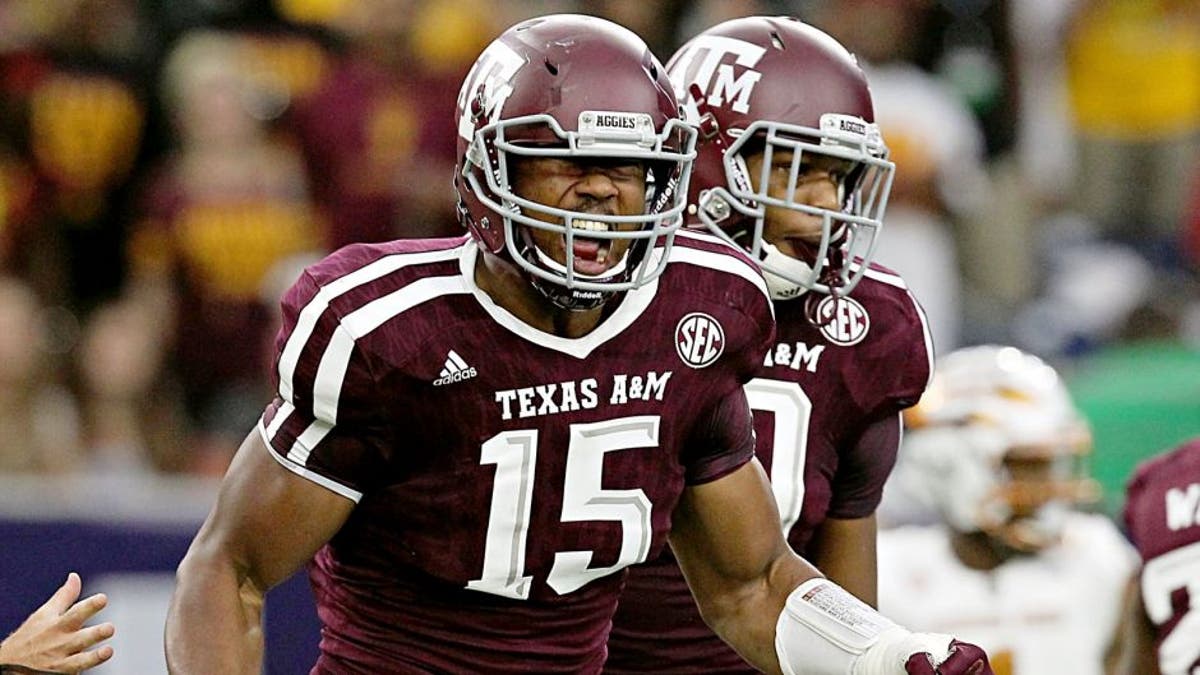 Texas A&M can reach the College Football Playoff. I've been telling you guys that for a month, but now that you've actually seen the Aggies beat a preseason Top 15 team 38-17, maybe you'll believe me?
While I felt confident A&M's defense would improve under new coordinator John Chavis, by no means did I foresee such a dominant performance as Saturday night's against a loaded Sun Devils offense. Led by freakish defensive end Myles Garrett (two sacks and a forced fumble), and similarly disruptive bookend Daeshon Hall (four sacks, two forced fumbles), the Aggies spent most of the night either hurrying or planting ASU quarterback Mike Bercovici on his behind.
Last year the Aggies allowed a dreadful 5.9 yards per play. On Saturday, they held a potent Sun Devils offense to 3.5
Garrett may well be the best player in college football. On a fourth quarter third and goal, with ASU trying to chip a 10-point hole down to three, the sophomore came crashing through the line to stop running back Demario Richard for a loss. And then there's true freshman receiver Christian Kirk, who broke a 79-yard punt return and 66-yard catch-and-weave for touchdowns.
Simply put, Kevin Sumlin has spent the past three years stockpiling talent and now, thanks to LSU import Chavis, whose scheme fits that personnel perfectly, he finally has a legit SEC title contender.
Mind you, ASU's Todd Graham's built himself a heck of a team too -- one I picked to win the stacked Pac-12 South --€" and his own defense got after A&M quarterback Kyle Allen early. Which brings us to the other big source of buzz surrounding the 2015 Aggies -- Kyler Football ... er, Murray.
Sumlin and offensive coordinator Jake Spavital went in planning to play their heralded true freshman quarterback a little, but ASU's pressure forced the need for a mobile quarterback. Murray is certainly that. Over four series, he ran six times for 69 yards, including a dazzling Johnny-esque 26-yard sideline dash. Twitter was already speculating about transfer destinations for Allen.
But Murray, it should be noted, did very little with his arm and produced just three points while in there. ASU cut its early 14-0 deficit to 17-14, at which point the sophomore Allen came back in and promptly led an 84-yard touchdown drive, capped by his own 12-yard touchdown run. He's not giving up the job just yet.
It will be interesting to watch how Sumlin manages the two quarterbacks going forward, because Murray's too electric a playmaker to leave on the bench. The last thing the coach needs is a season-long quarterback controversy, especially since this could be a special season for the Aggies.
It won't be easy playing in a division with Alabama, Auburn and the like, but A&M can certainly compete for a spot in Atlanta. It's got the most favorable schedule of anyone in the West. And if ASU has the kind of season I expect, the Aggies now boast a quality non-conference win in the event they eventually merit selection committee consideration.
Go ahead. Join me on the Aggies bandwagon.