Novak Djokovic's 4-match winning streak against Nadal comes to an end in French Open final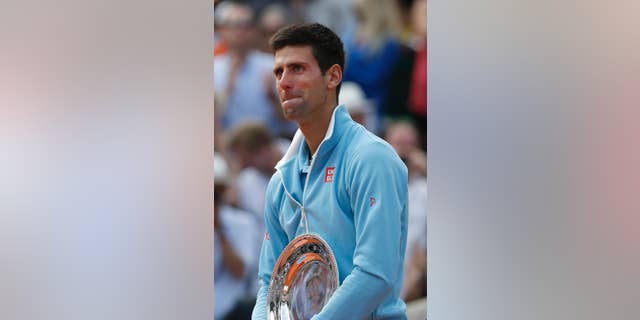 PARIS – If anyone was primed to beat Rafael Nadal at the French Open this year, it was Novak Djokovic.
Didn't happen.
Djokovic came into the final at Roland Garros with a four-match winning streak against Nadal, including winning the title in Rome last month on clay. But playing Nadal in Rome, or anywhere else, just doesn't compare to playing Nadal at Roland Garros.
"Obviously, his records speak for themselves. He has won this tournament now nine times," Djokovic said after losing to Nadal 3-6, 7-5, 6-2, 6-4 in Sunday's final. "It's very impressive (when) he's playing on this court."
Nadal has lost only once at Roland Garros, and that came on Court Philippe Chatrier in the fourth round of the 2009 tournament. Since then, the top-ranked Spaniard has become the first man to win five straight titles at the clay-court major, and the first to win nine at a single major championship.
Two of those nine French Open titles have come with Djokovic on the other side of the net in the final, and both went four sets.
"He was a better player in the crucial moments," said Djokovic, now 0-6 against Nadal at the French Open. "Of course, it's disappointing for me, but life goes on. It's not the first time or last time that I lost a match."
Nadal and Djokovic played their first match against each other in the 2006 French Open quarterfinals. Nadal won the first two sets before Djokovic retired with a lower back injury.
Since then, Djokovic has gotten closer and closer to victory in Paris.
"It's not impossible, but it's very, very difficult to stay with Rafa in this court throughout the whole match on the highest level of performance," said Djokovic, who has been coached by Boris Becker this season.
The pair again met at the French Open in the 2007 semifinals, with Nadal winning in straight sets. The third meeting came in the semifinals in 2008, with Nadal again winning in straight sets but pushed to a tiebreaker in the third — a first for Djokovic.
In the 2012 final, Djokovic finally won a set. And in last year's semifinals, he won two sets before losing 9-7 in the fifth.
This time was different.
"I was losing against him the last four times, so every time that I have the chance to beat him is because I played to my limit," Nadal said. "Both of us, the last couple of years, we're playing at a very, very high level. ... I think he deserve to win this tournament. I am sure he will do it in the future."
Djokovic beat Nadal on hard courts in Beijing and London at the end of last season, and then again on hard courts in Florida this season.
Their last meeting before Sunday was a 4-6, 6-3, 6-3 victory for Djokovic in Rome, a seemingly positive omen for a guy who needs to win the French Open to complete a career Grand Slam.
"I tried to do my best. My best wasn't (as good) as the best against him in Rome a couple weeks ago," Djokovic said. "But, you know, it's how it is."