Novak Djokovic borrows an old woman's umbrella and takes a stroll at rainy French Open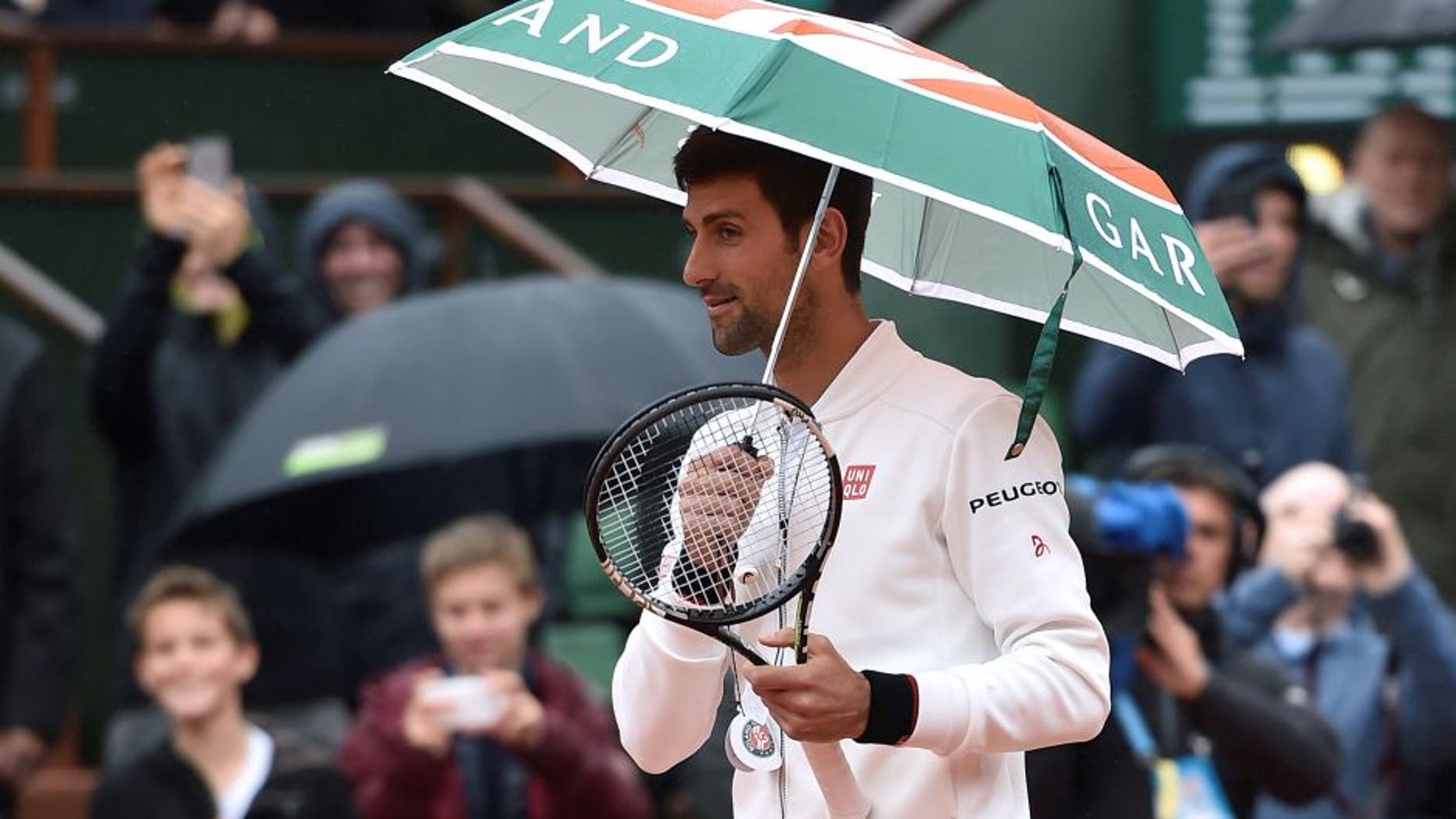 On Monday, the French Open experienced its first complete wash-out in 16 years. That was after rain delays on the first Sunday, Monday, Thursday, Friday and Saturday of the event. And all that was on top of the latest French Open stoppage: a nearly three-hour delay on Thursday, which took place less than an hour after players took the court for their fourth-round and quarterfinal matches. The whole schedule is in chaos. Some top players might have to play four matches in six days. And the forecast for the rest of the week is hardly encouraging either. Let's just say Paris is about 31 days away from needing an ark.
One of the matches delayed on Monday was that of world No. 1 Novak Djokovic whose biggest obstacle to the title, now that Rafael Nadal and Roger Federer aren't in the draw, seems to be his mere ability to play it. While officials were weighing options near the end of Tuesday's lengthy delay, an antsy Djokovic took things into his own hands - an umbrella, specifically - to inspect the clay at Court Philippe-Chatrier.
Though far from the Djokovic who used to imitate other players during rain delays, a talent he's kept quiet as he's developed into the best player in the world, this was a nice reminder that the world No. 1 still has his whimsical side. Also, anything that can endear Djokovic to an often-apathetic Roland Garros crowd will be welcome, even though, on its face, stealing an umbrella from an old lady doesn't seem to be the best way to get thousands of Parisians on your side.
This is the second-straight year Djokovic has tried to win over a crowd with an umbrella. During his run to the finals in 2015, he insisted that the ball boy who was holding his umbrella come sit down for a brief chat in the rain.
Ernests Gulbis did the same thing on Tuesday.
But the most obvious comparison of a player coming out onto court with some canopied rain protection was back in 1988, when a teenaged Andre Agassi did the same thing.
Still, even though Andre has a French Open title and the career Slam that Djokovic so desperately wants, he should be wary of imitating that umbrella-holding Agassi too much. He lost in the semifinals that year.